I am pretty jazzed. I have my Tetris quilt all pieced! It is awaiting borders. This picture didn't turn out the best but it is done.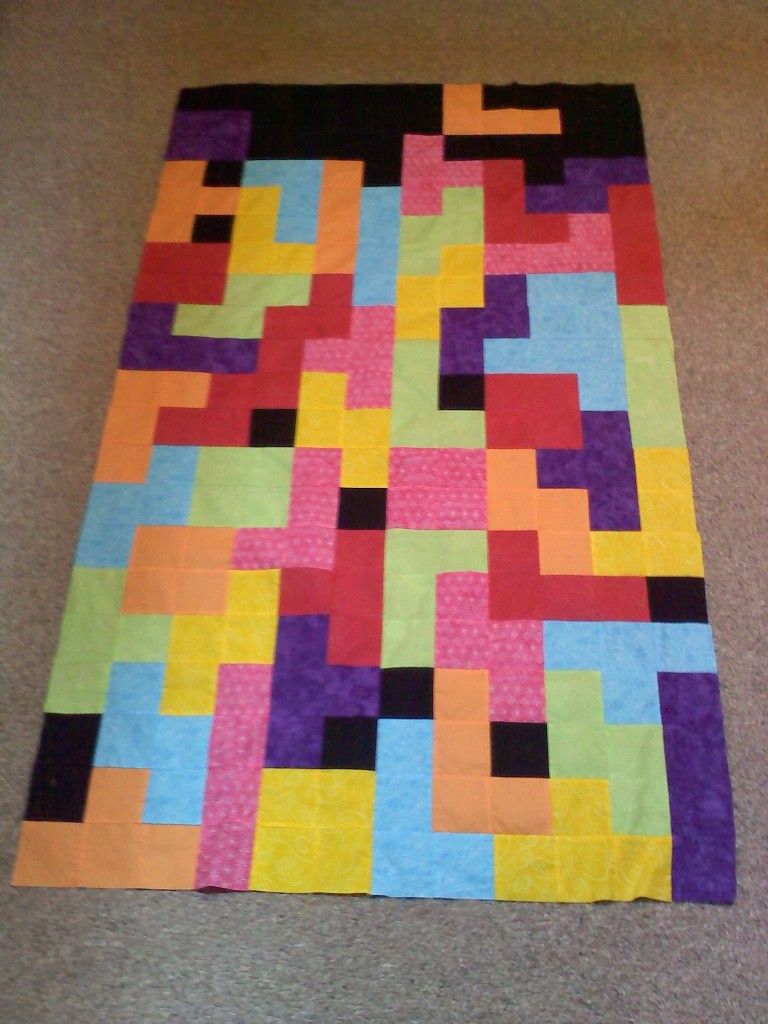 I ran out of some of the colors and substituted in orange which I had plenty of for some reason. I floated the last piece so it would look as if it was still falling.
Then, I realized I did NOT take a picture of the week 6 block. I couldn't have because I was so intent on getting it done it was never a block on its own. I added the next three rows on to it. Because I sewed those in black, I did some weird stuff as far as order. So....use your imagination. This is week 6:
I really enjoyed this quilt along and I am going to use the idea for a Christmas throw with friends. Last year we did a block exchange but I think a QAL will be fun. We are starting with a fat quarter fabric swap. If anyone wants to play along, let me know and I will post on here, too. I am using a Facebook group for the IRL friends.
I am adding a couple of borders to this. First is a narrow - one inch I think - light blue/silver. After that I am not sure. Probably a dark border. Maybe even black. I haven't decided what color to quilt with. Any ideas out there? I am thinking "organic lines" would work well.
I am just so glad to have this done. It will make a great Christmas gift.
Linking up with Melissa for the
Tetris QAL
and
The Fabric Addict
for a Whoop, Whoop!
Oops...forgot about
Richard and Tanya's linky party
.
Thanks to all the hosts!!
Keep Stichin'!!!
Mary