Hello, all! I am still sewing. Been working a lot, too.
As if I needed something else to do, I signed up for a Row Robin on
Quilting Board
. I chose
My Sewing Room
as my theme. I thought about just cutting a bunch of random fabric and sewing it to a piece of fabric. Or, a fabric bomb. That is what it looks like right now.
This is what I actually did.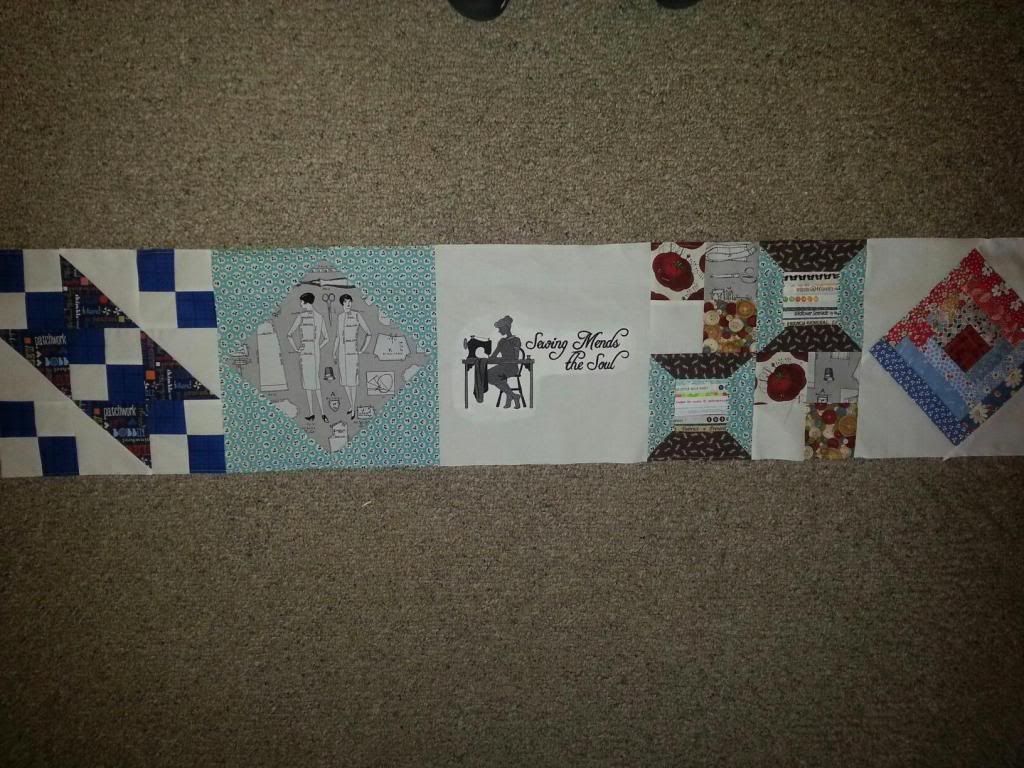 It is rather difficult to get a decent picture of a 60" row and I have discovered my new phone compresses them a little much for my taste when I send them to photobucket. Yet another think I need to learn - how to get the pictures from the phone to the computer.
Okay, okay...I know. No one is interested in my technical difficulties.
If you are interested in what the blocks represent, here we go. Otherwise, scroll to the bottom and check out the Friday Finish linking parties.
The block on the right is a Jacob's ladder. I have made a lot of those (since my name is Jacob) and should be better but what you see it what I got. The fabric line is from Connecting Threads a couple of years ago. The block beside it is some fabric from Robert Kaufman (I think!) that I found at an almost LQS. Do I really need to count the two hour drive among friends? I chose the fabric because - horror of horrors - I like to sew clothing. It is what I grew up doing. It is what my mom and grandmothers did.
I am old enough I took home ec in junior high. We learned how to measure for clothing fit.
This is my pretty lady. No, I don't look like that when I sew. Apparently, she follows this directive that is supposedly from Singer.
I don't even
own
powder and lipstick and I sew barefooted. But she is elegant looking. I could use a little elegance added to my
mess
cage
sewing room.
It's a little busy, huh? I need work on those spool blocks. I finally just gave up and went with what I had. You will never notice it from a galloping horse. I used various selvages on the spool.
And.....because I live in a log home and I love 30s repro fabrics. I thought this block was fitting.
Now, how did that happen? That picture was rotated 90° to the left when I copied the link. Same difference. Like my feet and the leaves on my deck? I
think
the leaves are supposed to be cleaned up this weekend. We live with woods on three sides of us. We rarely have them all cleaned up.
What did you finish up this week? Nothing? There is always next week. In the mean time, check out these fine folks who are hosting linking parties.
Crazy Mom Quilts
Richard and Tanya Link a Finish Friday
Confessions of a Fabric Addict
Thanks for sticking through to the end!
Keep stitchin'!
Mary