I saw a picture of this block SOMEWHERE but I don't remember where. Or, I think I did. I could be imagining the entire thing. In any event, I made it into a quilt for a dear friend's daughter when she got married last month.
This is the quilt top. It is an odd size at 66"x81" but I think it works well as a throw.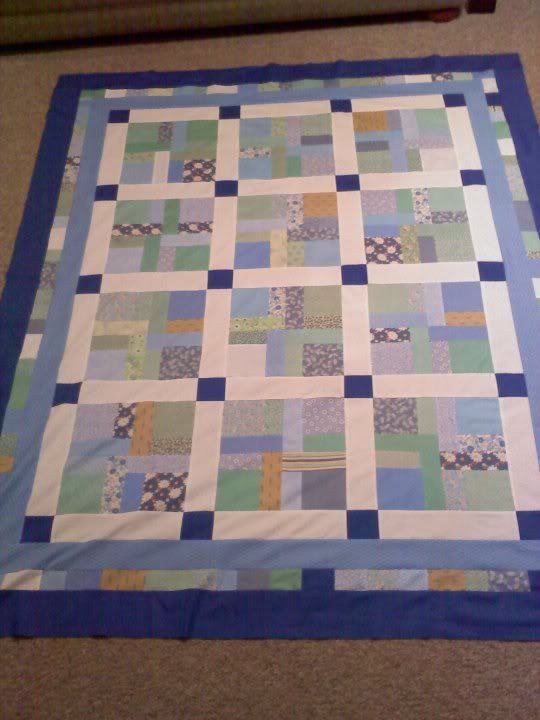 I do have a picture somewhere of it after I quilted it. I know it is on Facebook but I am not finding it in Photobucket. Grr... I can edit later if I find it.
To make these blocks you have two options. You can use a charm pack and jelly rolls or, do as I did and use scraps. I prefer strip piecing where applicable and that is what I did for the first seams where I could.
Using charms you will need 48 charm size (5") squares. I believe that would require two charm packs.
You will need the same number of 5"x 2.5" strips and 7"x2.5" strips. These can all be cut from the same jelly roll.
A jelly roll strip will yield seven 5" strips and one 7" strip with essentially no waste. Cut 9 strips this way.
From the next strip cut three 5" strips and three 7" strips. From the next six strips cut six 7" strips.
Stack all of these strips in their respective pile randomly.
Sew one 5" strip down one side of each charm square.
As you prepare to add the 7" strips always orient the already sewn blocks so that the strip is on top and add the 7" strip to the right side as shown below.
As I said earlier, I was using scraps and I trimmed my blocks after each seam.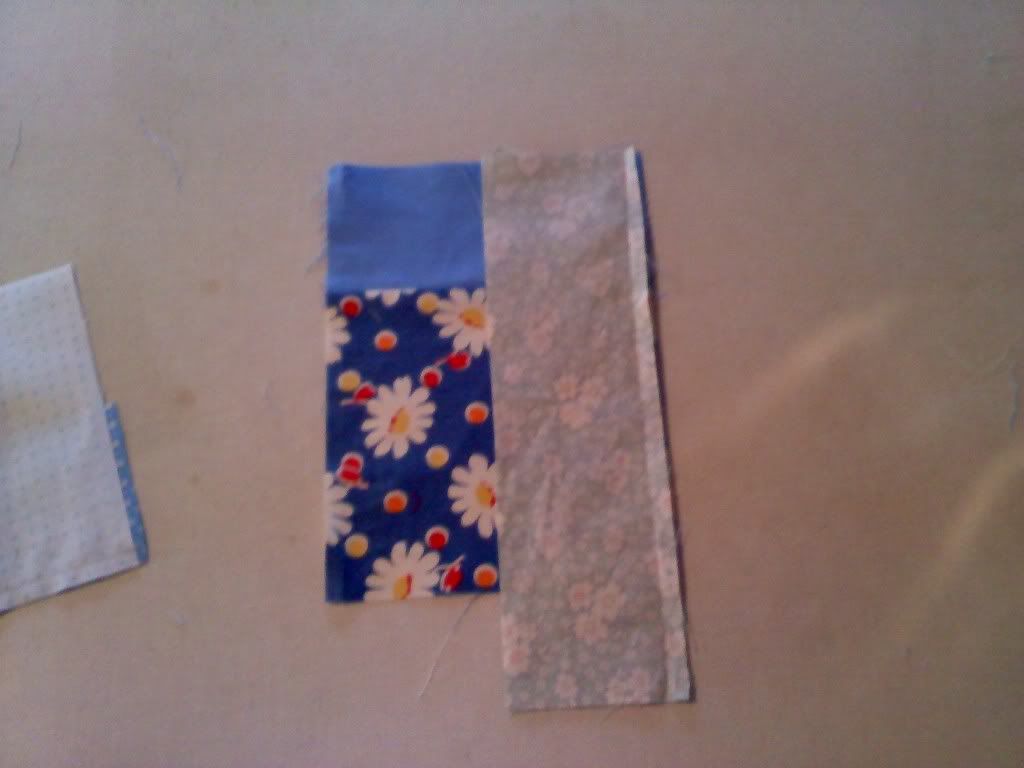 Press the seam toward the strip.
AAAHHHH....I can't find the next picture which I know I took. Sew two of these blocks together so that a "long" strip and a "short" strip are on the seam edges.
Back side, but you can see what I mean.
Next sew two of the two block units together making the same matching.
After the quarter sections are constructed you do NOT sew on the 5" square.
Here are a couple of blocks. The second one was my "test" square. The bride wanted blues and greens. So, once I figured it out that is what I gave her.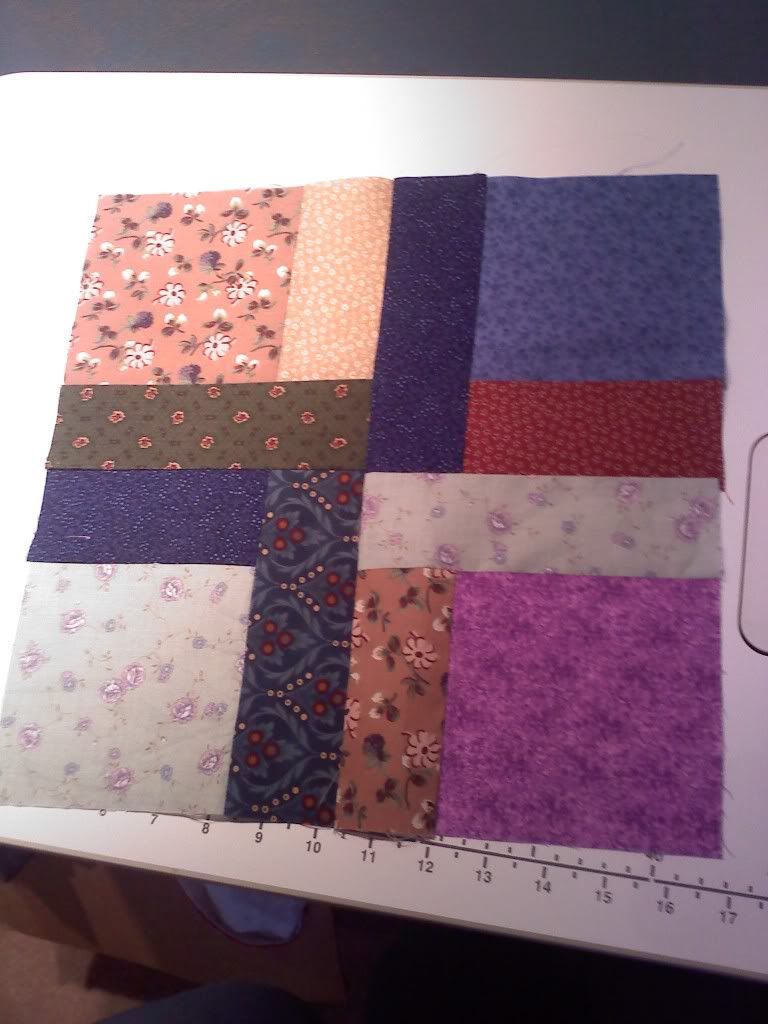 I think the blocks look fine even if the same fabric appears in more than one quarter.
For this quilt I squared the blocks to 12.5" but the finished size should be around 13".
I used 3" sashing to join the blocks and cornerstones to force it to be more blue because that is her favorite color.
Found the missing photo. I used a pattern called Hearts A Flutter to quilt it in a varigated blue. The bride really seemed to like it and I did to.
I decided that every quilt I make as a gift from now on will either have red fabric or 30's reproduction in it because those are my loves. It is my own secret signature.
Hope you enjoyed this.
Keep stitchin'
Mary
I linked this post up with
Sew Many Ways
for her Sew Darn Crafty. Be sure to check out the other links!