This week I am working nights. Around 11:00 a.m. today I heard a honk in my driveway. I realized it was the mailman. He was already on the porch by the time I got up. I didn't go to the door in my pjs. I am sure he is very glad of that! He left me a package. The new drawers for my treadle!
This is my lady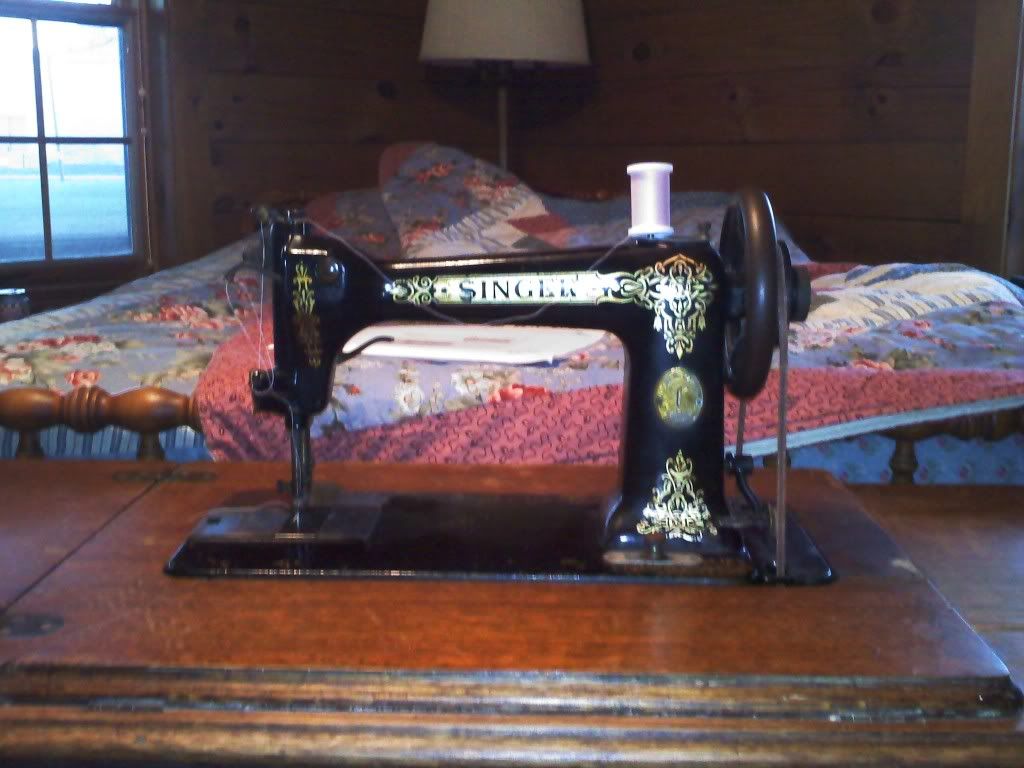 And, her cabinet: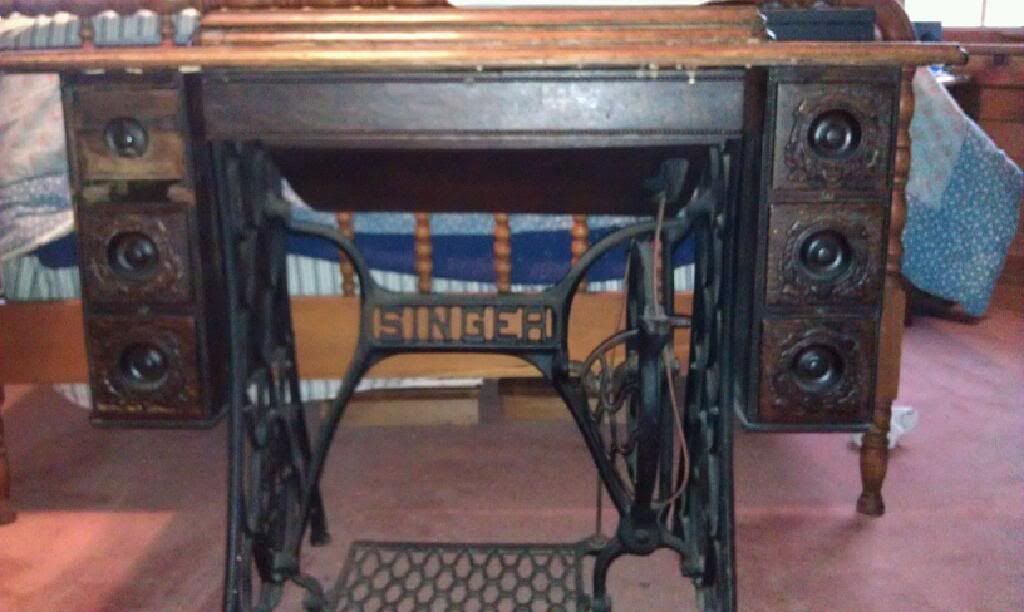 Notice all the damage on the upper left drawer. A rogue mouse did that during her former life. She also has paint dripped on her and is in need of a face lift. That started today.
Sorry for the poor picture. I couldn't get the lighting right in the bedroom this afternoon and wanted this on here tonight. My husband is going to make a new piece to go between the drawers. So, her face lift is under way but not complete. I will keep you posted!
This is my new lady: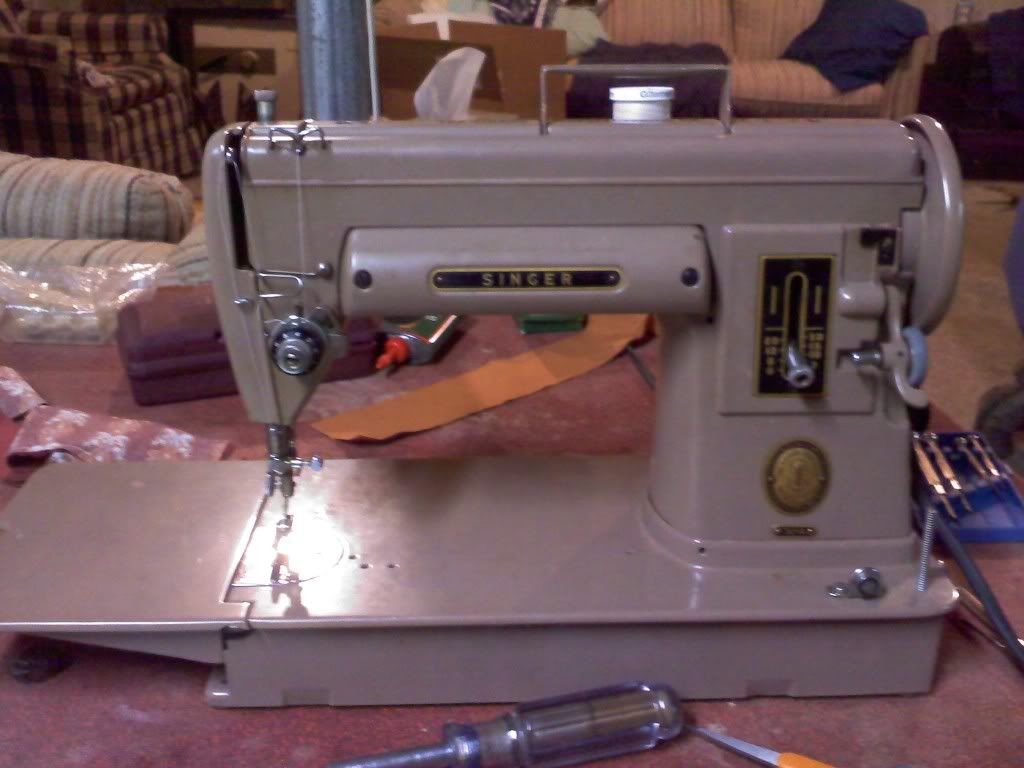 She is a Singer 301A with a long bed. The deal was
supposed
to be that my husband would paint her red for me. I have never been a fan of this color that Singer used. My husband was home when she arrived. I could tell she was a little tight but I threaded her anyway. The bobbin thread just wouldn't pull through consistently. She needed cleaned so badly. This is what she looked like an hour later: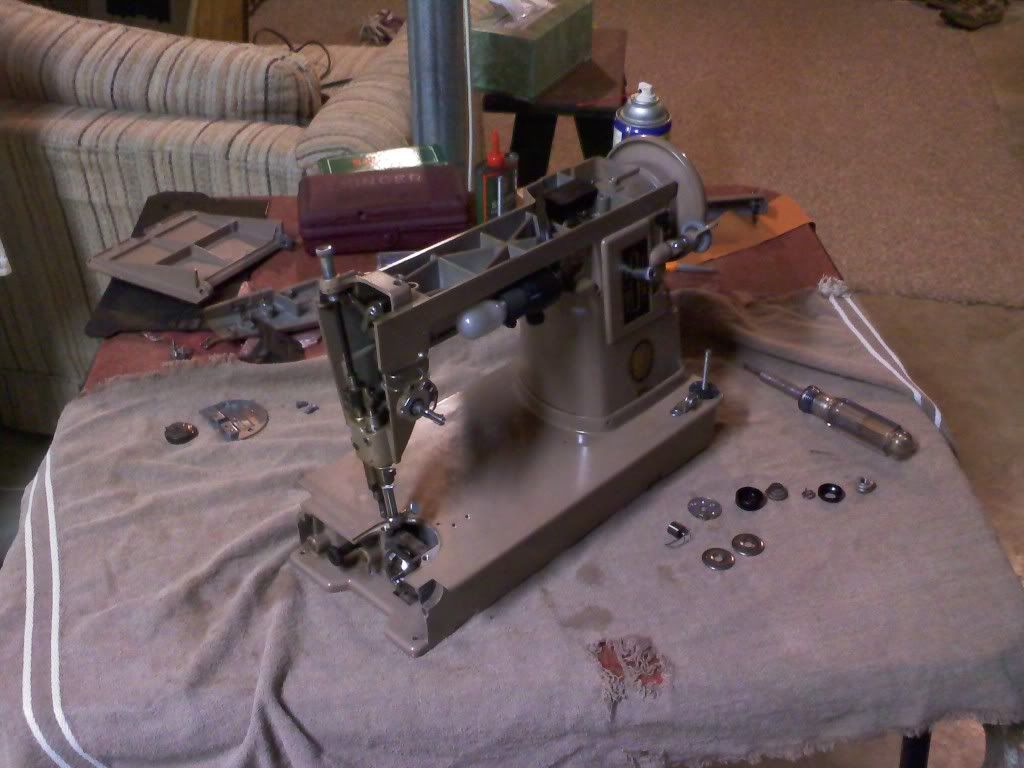 My husband got hold of her. As he dug deeper he kept telling me she had very little sewing time. He has decided he just
can't
paint
this
machine. He thinks I should find another to paint! He was really enjoying tinkering with her. I actually planned to do most of that myself but who am I to ruin a man's fun! As long as I have one back together and functioning well before I go to a retreat I will be happy.
I did sew a little this afternoon before she arrived. I am working on two tree skirts from a Thimbleberries pattern. I have to say, I am not a fan of how her patterns are written. But, I am wading through. One will be a table topper and one a tree skirt. They are different and the final decision will be based upon which one turns out worse....that will be the skirt!
I am going to see about a couple more 301s in a week or so. The lady told me one is only a donor machine. Be something good for M to practice paining on!
Keep stitchin'!