Today I had a lot of simmering going on. I tried to sleep since I am working nights this weekend. I woke up for good at about 11:00 a.m. but I laid there "thinking"....simmering....planning...
Going back to my first pot: I am still working on the pond quilt. I actually took some pictures of it today with my camera instead of my phone but they looked worse than what I have. I have been embroidering on it. I have added 6 or 7 fish, 3 frogs and some dragon flies.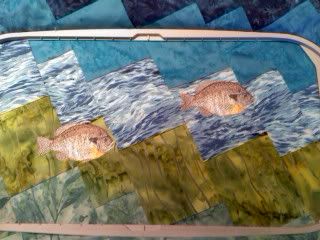 Those are blue gill for the unknowing. There is another on the quilt at the other end.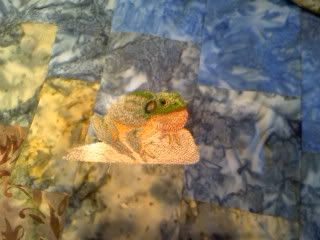 This is a bullfrog on a rock.
Each fish I embroidered had somewhere between 22 and 36 thread changes. It was nuts! I am still going to add a rocky border and then a fishing scene border. I am free handing the quilting so I don't break any needles on those darn fish!
I left that pot simmering since yesterday. I finished up those blue gill as I cleaned my upstairs. Last night I made a new to me discovery.....
1600 Quilt
. Have you seen these? They are so stinking cute! All it takes is a jelly roll and NO cutting.
The other pot I had simmering is this beauty: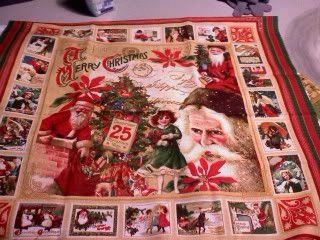 I bought this panel when I went to the neuro on Thursday. (It is called shopping therapy. I was STRESSED!). I thought I could use it to make a wall hanging for my living room but it is a little big. I think it is going to be a throw. When I got up I dug through my fabric looking for what I wanted to go with this. That pot is stewing.
I felt so useless today. I just couldn't resist. I decided to start one of those jelly roll 1600 Quilts. I have all of one jelly roll. It is Hello Betty by Moda. I started sewing the strips together. About strip number 13 I realized I was sewing my miters BACKWARDS!! I cursed a lot. At least in my head. Went down and sat by my napping husband and picked those out. Back to machine. This time I got it right. Took me about 25 minutes to sew all 40 together.
Off to ironing board. That took another 30 minutes. I recommend doing this in 5 sections of 8 strips. Doing the pressing and then connecting the 5 sections. Much easier to handle than what I did.
I sat down and sewed that first 800 inch seam. My DIL came in. It was nearly time for supper. I am probably 100 inches into the next seam. I swear I will finish this tomorrow. But I have decided it needs a huge flower appliqued on it. I don't do hand work or I would put it on after quilting. I see something red. It is simmering...
What have you got simmering?