Hello, All! Hope your week is going well. Because of my crazy schedule this is my "weekend". It is going good and bad. The good is I got to start the day keeping our grandson. No pictures but he was a happy boy. Standing up to everything. I fed him his cereal and fixed his Pap pancakes and bacon for breakfast at the same time. Nice to still be able to do SOMETHING right.
My WIP is a Fun and Done I signed up to take at the LQS. Mainly I went for the company. Today was the final day. Since I had Blaine and the remainder of a migraine I opted out but have been working on it.
I am now joining blocks. I have two layout options. Both are still a possibility.
Option one which is what I thought I wanted.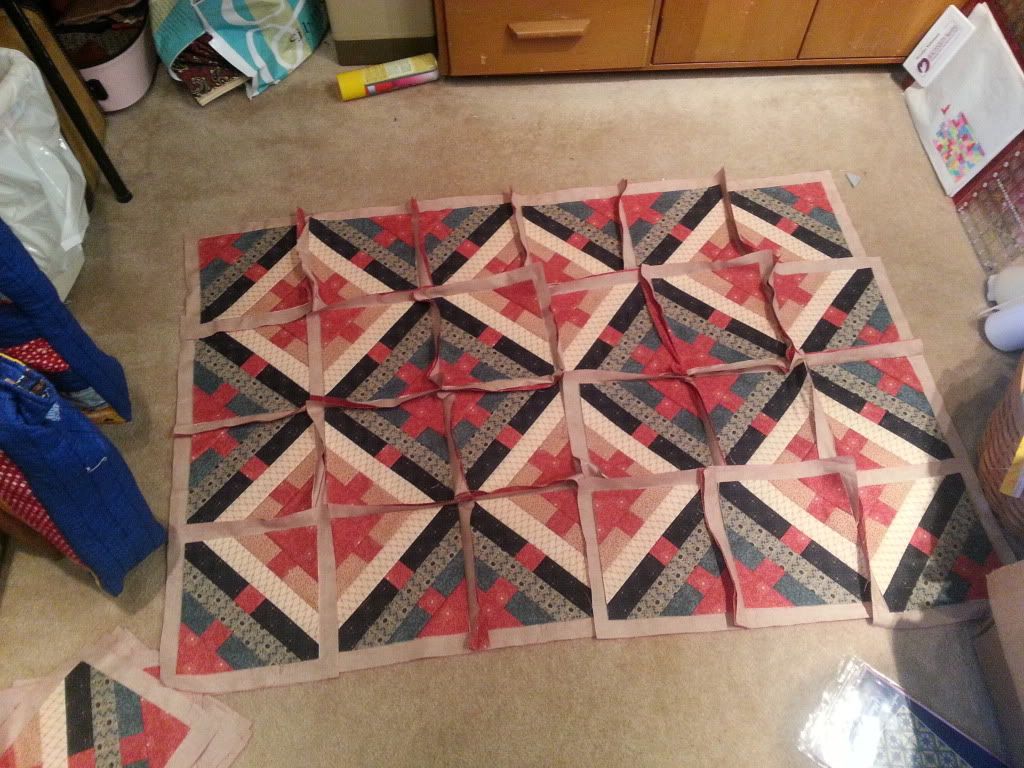 Option two, which I actually like better. I am glad I laid them out before I had joined anymore blocks. I am now at the point I can go either way but if I had sewn anymore blocks together it would have either been a commitment or a seam ripper.
I really am not enjoying this any longer. A little bit of it is fun but 48 blocks are not for me. I will use the technique for some other things but I doubt I do another of these start to finish like this. I actually stopped to pay bills and MEND because I was tired of this.
All the trimming is wearing, too. Look at all this waste and it is only half of it.
I know some people call those crumbs and save them. I call it trash and that is what I do with it!
I don't want to sound critical of this technique. I think it would be good for my MIL and SIL. I will probably make some place mats or table runners with it. I will be posting pictures of the process in another post so that my aunt and a friend can see how it is done.
Linking up with
Freshly Pieced.
Be sure to check out what everyone is working on!
Keep Stitchin'!
Mary