Hello...I am not sure how time gets away from me but it does.
Started this post a couple of weeks ago. Something came up and I didn't finish it. I have made no progress. So, I am sharing it now!
A few weeks ago I wanted to sew but didn't feel well enough to risk any "important" (read costly) projects. I decided to work with some fabric I had bought a few years ago from Connecting Threads. It had lost its appeal to me. I
thought
I would whip out some quick projects and send them to charity. Thus far I haven't completed them but they are growing on me a bit. I have been referring to them as The Ugly Sisters.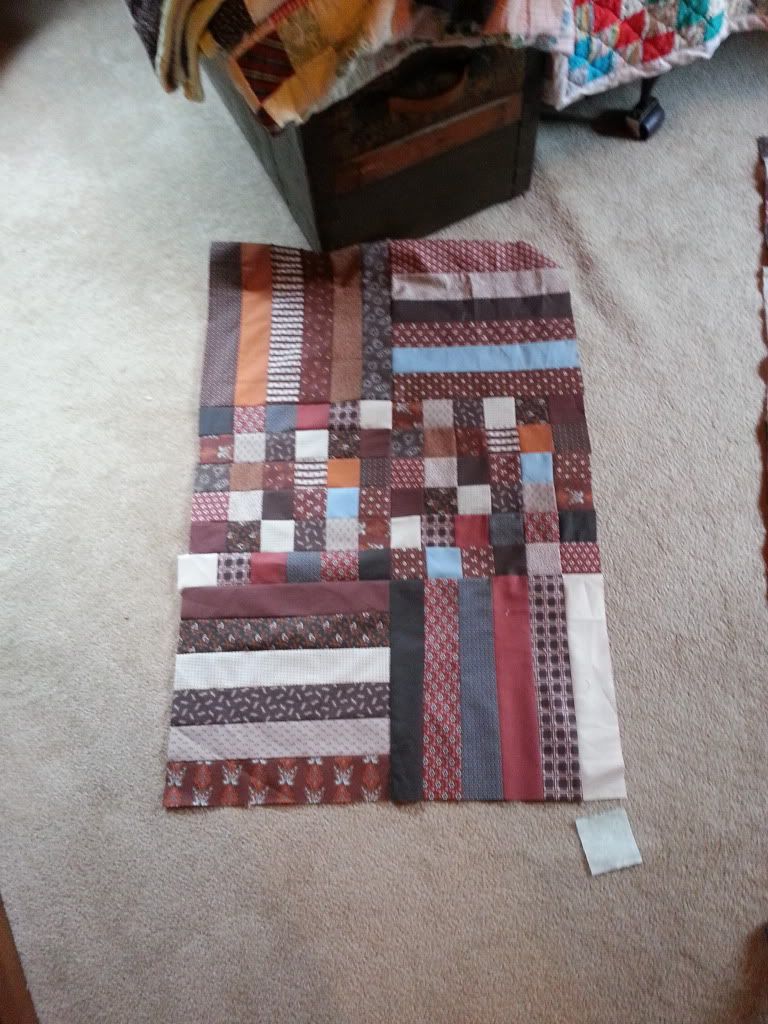 I know this seems a bit odd. I had used the strips from the jelly roll for "training" when I was helping my DILs learn to sew. I also used them when we were working on vintage machines. None of them were perfect. Maybe I should have called these the Homely Sisters. I did take some of the 2.5" strips apart and fix them a bit but eventually called it good. I do think they are a little be like me. My husband and my parents all agree that I was a homely child but that I grew out of it. I think these have the potential to grow out of it, too. I am trying to help them!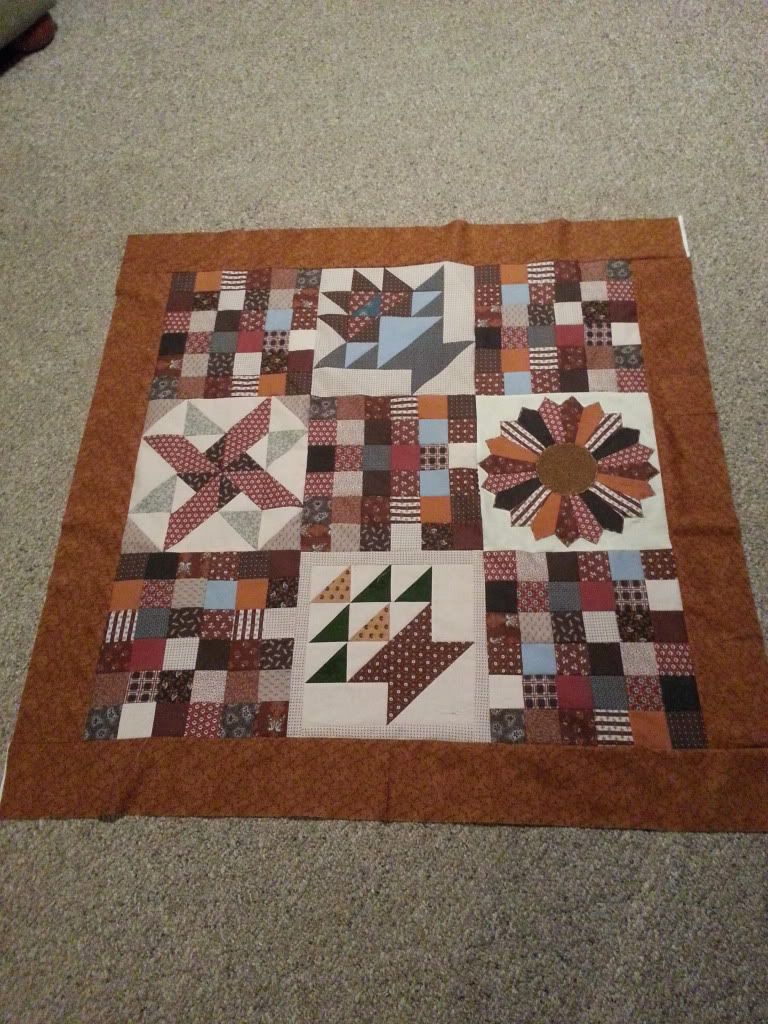 The four pieced blocks are my "practice" blocks from last years BOM. I had the thought I could donate these to a nursing home and they would be suitable for a man.
I found another fabric for the other "sister".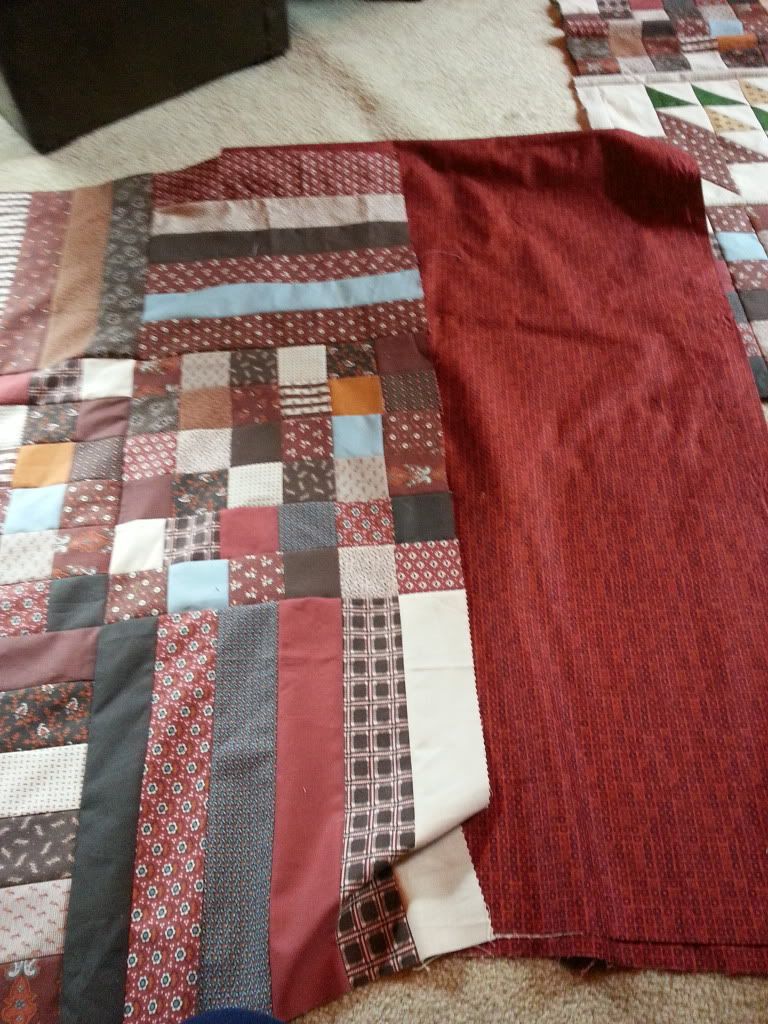 I plan to put a narrow sash to frame the "ugly" part. Then I am going to make a large pieced border out of the other scraps. I am thinking maybe "bricks" of 4"x6".
As you can see, part of why they are ugly is because they seams don't match well. I feel a little guilty about giving them away like that but the overall effect isn't too bad. What do you think? Too awful for charity?
I have read several blogs where people have lists and comment on their own progress. I am going to try that. Because of my oddball schedule I am making mine a five week list. It takes 5 weeks to get through a full rotation of my schedule. So, I will be at the same point on Sept 16. We will be gone to NY state the week before that. So, this list could have a lot carried over!
1. Finish Fun and Done quilt (would do Wednesday at its class but just asked to babysit my grandson!)
2. Complete Ugly Sister top
3. Quilt at least three quilt tops
4. Final border on 2012 BOM
5. BOM for August and September
6. Owl pin cushions for BOM
7. Use D9P for leaders and enders
8. Earth tones quilt completed to take to NY.
Okay, if you are still reading, what do you call earth tones? I am just going to do a simple quilt. Maybe a turning twenty or one of those large block stars. Our friends asked for a quilt in earth tones (someday). This year was their 25th wedding anniversary and we are going out to visit them. I have the week of Labor Day off and plan to get it done then if not before. I will be honest that earth tones for me are a lot of the fall colors. I am not sure that is what they mean. What do YOU include in earth tones?
Thanks for sticking with me this far! I have to leave for work again in a couple hours. Better get back to the
sweatshop
sewing room and get something done or everything will still be on that list next month!!
Keep stitchin'!
Mary