Hello, all! I am finally going to manage a post. I have so many pictures uploaded to Photo Bucket for posts that I am surprised it is still available to me. I will try to limit myself today.
First.....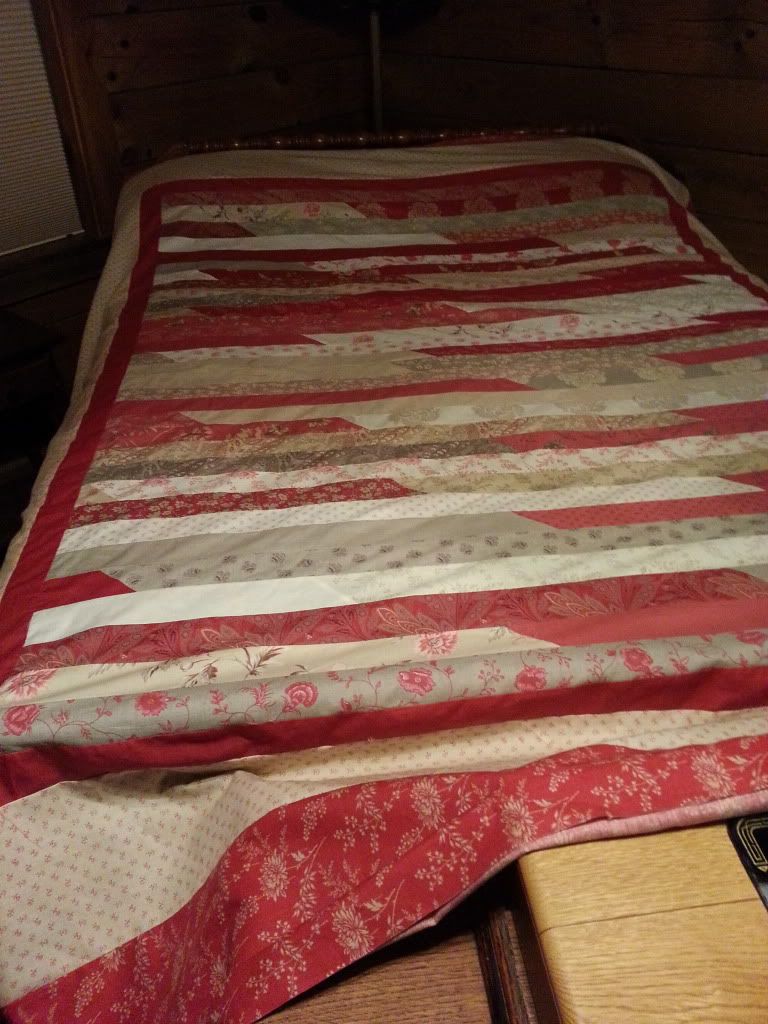 This is a Jelly Roll 1600 that I made from a French General jelly roll.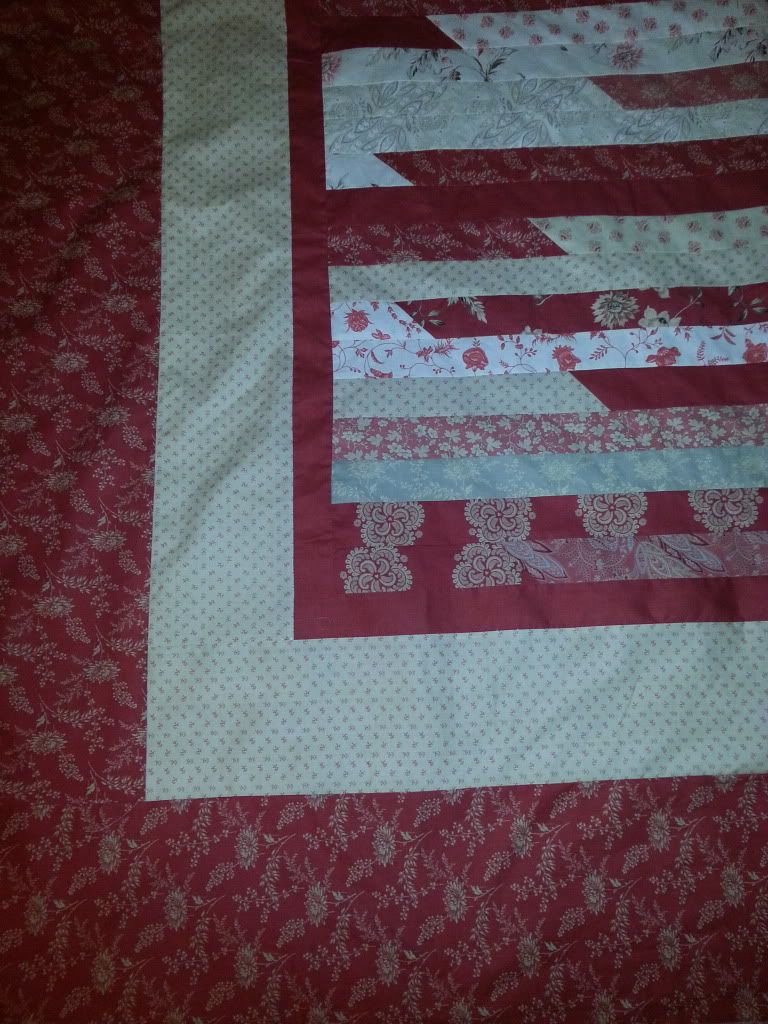 I drug the darn thing all over the house trying to find a place I could get a good picture but it just wasn't happening. See the fourth strip up? That is the mauve/pink color in it. It matches the carpet in my bedroom - which was supposed to be "Pale Brick". Looks pink to me and I hate it. But, I love red. It is my favorite color. I found this piece in my stash.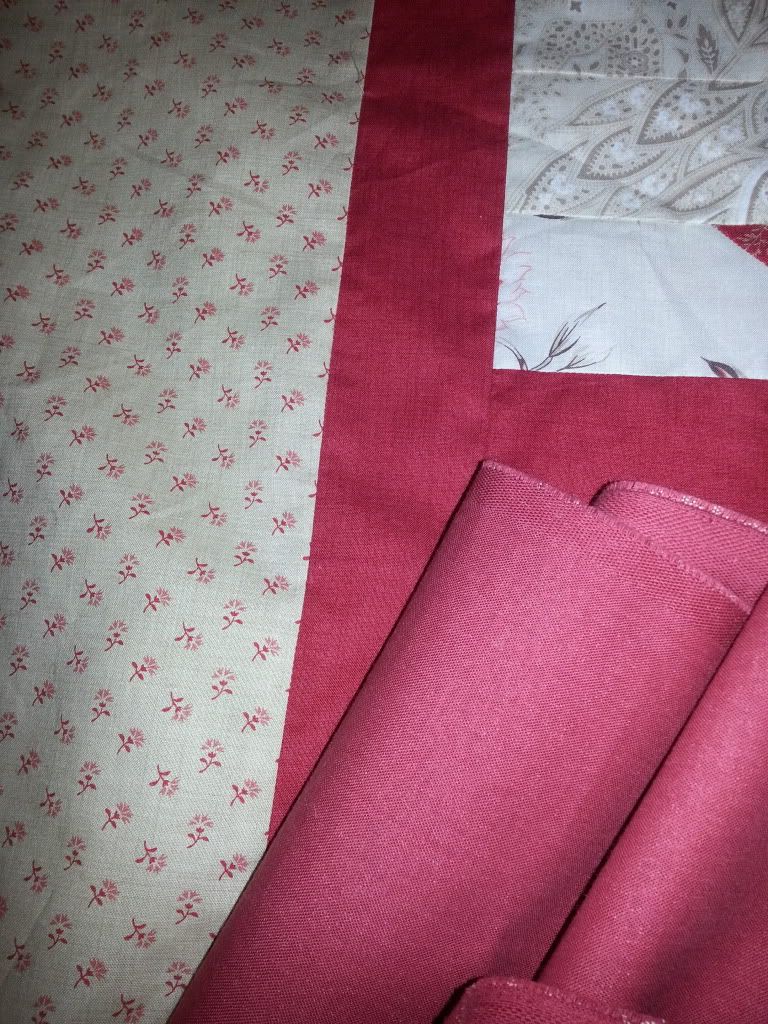 It isn't perfect but will work for the backing. I have five yards of it and I am going to piece it with that print border in the picture to make it the correct size. Binding will be the fabric used for the red border. Made this all from my stash out of things I have had over a year. Yay!!!
I am linking up with
Sarah,
Amanda
and
Richard
. Be sure to check out the other finishes and COMMENT. We all love comments.
My other finish isn't sewing but it is for sewing. This was my sewing room at 1:00 p.m.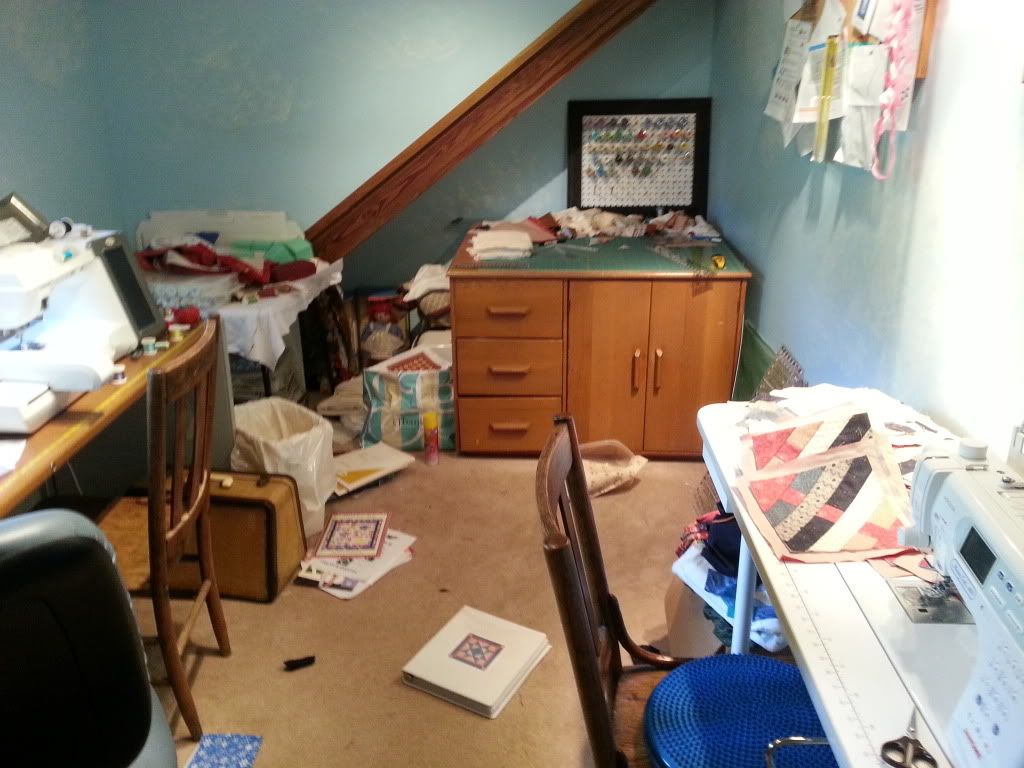 I wish I had taken a picture of what was under that table in the corner. If you enlarge the pictures and zoom n you can see all the crap piled on it and the cutting table.
After two hours I found my missing patterns (two of them), threw away a bunch of little scraps I have no idea why I had kept and laid out all of my "current" projects in a reasonable manner.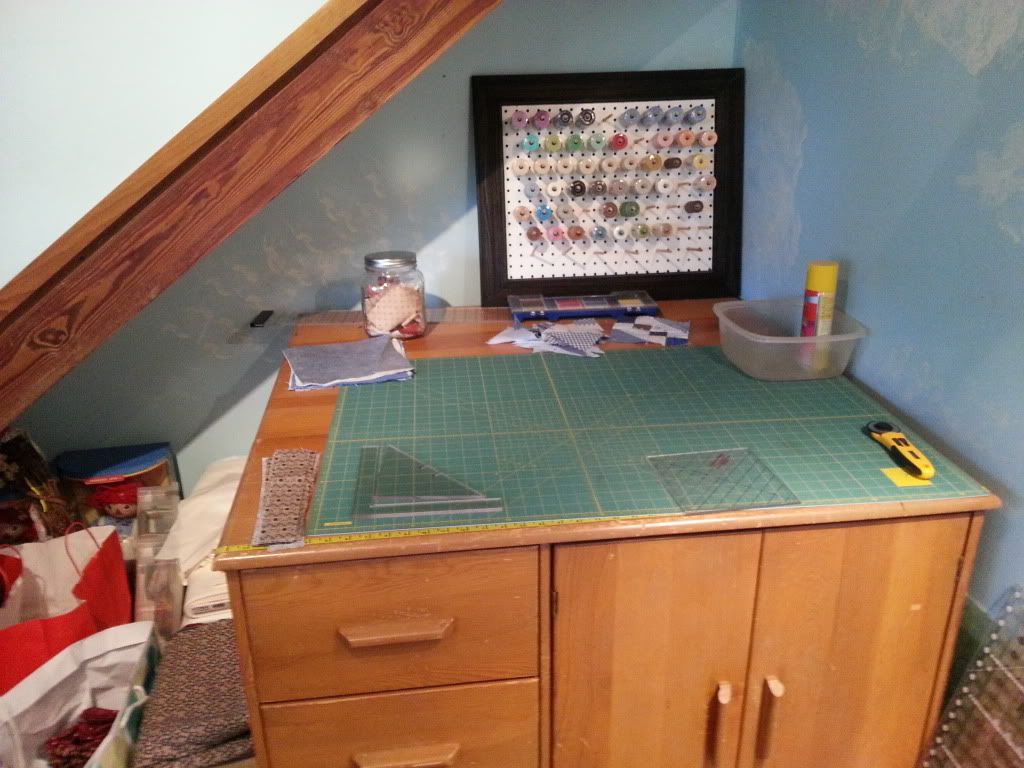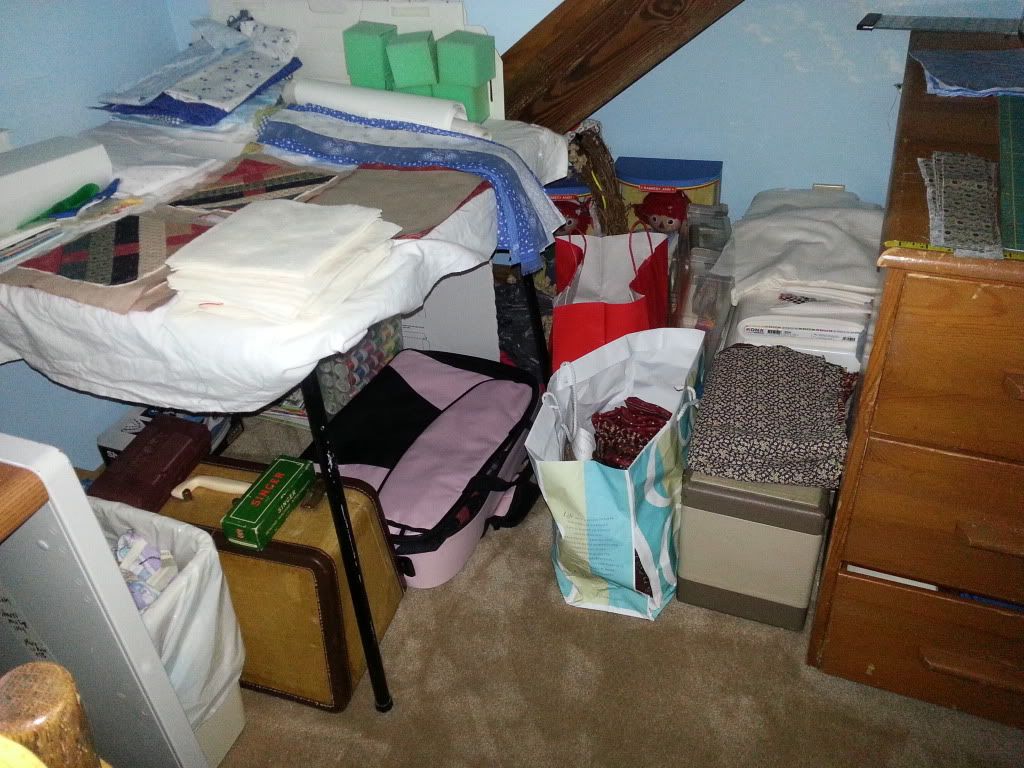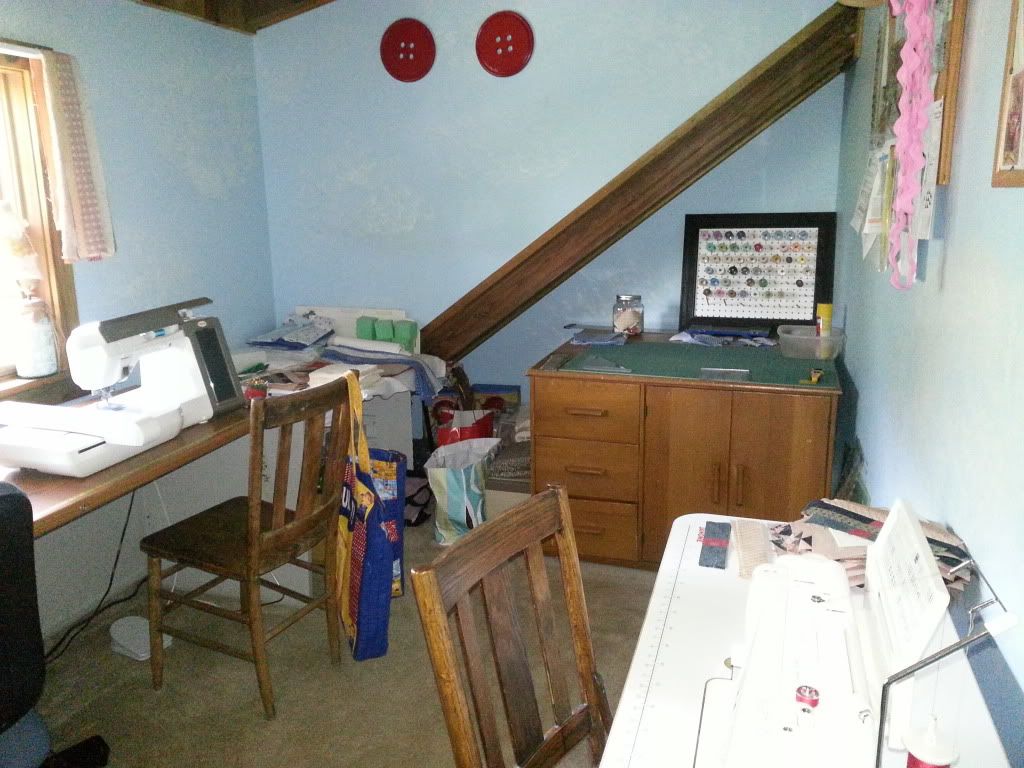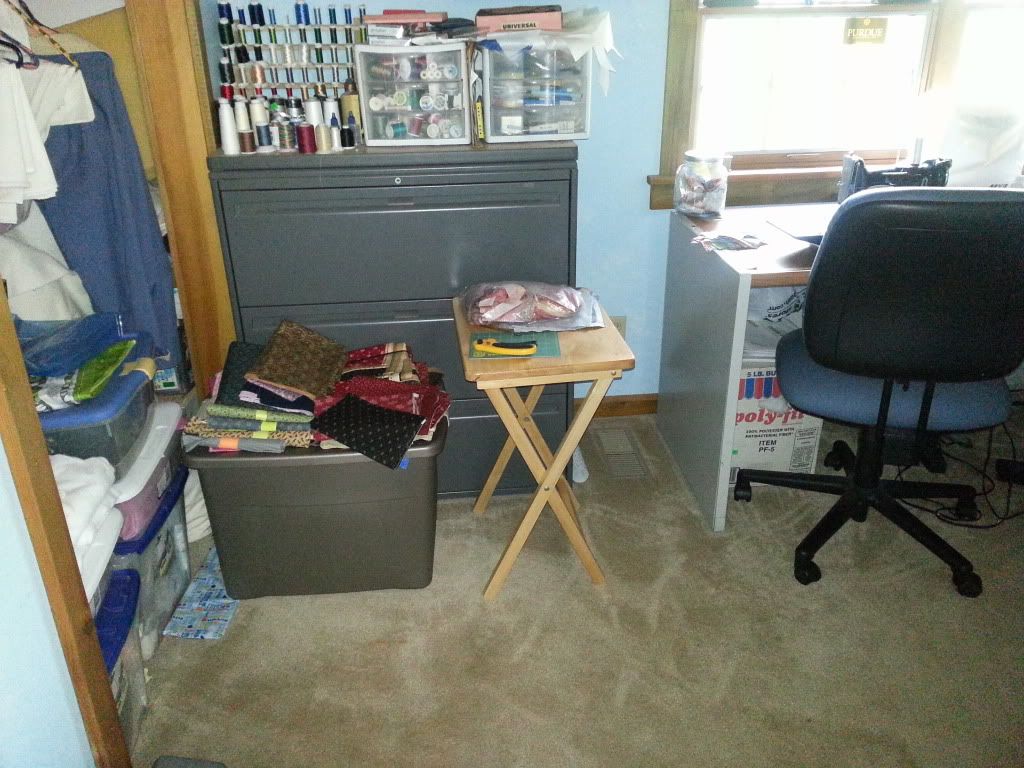 In case you are wondering, my ironing board (and more fabric storage) is in the bedroom down the hall. It helps keep the sewing room cooler (I have halogen lights) and keeps me moving to keep it down there. I did vacuum and dust in there. I also put away almost all the thread I had out. I found a missing pair of scissors, too. So, hopefully I will get some sewing done!
On another front I also put up 37 jars of green beans and a froze a gallon of peaches.
Now, supper and off to work!
Thanks for stopping by. Hopefully, I am back and you will come back!
Keep stitchin'!
Mary