Hello, all! Warm enough for you? My aunt lives in San Antonio. It has actually been hotter here the past two weeks than there. Today was 107°F with a heat index reaching 130° in places. One of the local state parks caught on fire today.
I went to the beauty shop - sorrry - hair salon today. One of the women there had a jar and if you mentioned the heat she wanted you to contribute a dollar to her vacation fund. I didn't have to contribute. I had goose bumps. Should have realized what that was a sign of. I finally told my hair dresser, "You just have to reach a stopping point as quickly as you can no matter the results. I HAVE to leave as soon as possible!" So, thanks to Mr. Migraine (I assume mine are male because it takes a man to cause me this much pain), I currently have blonde hair instead of my normal brown with blonde high lights. We will see if I have more fun. This afternoon, not so much!
I did work on a teeny tiny bit of sewing this afternoon. I made new bags for the corn hole game. We are going SOUTH to our son's tomorrow and he wants to play. Fool....
In preparation for leaving the dogs home we have buckets in the freezer making ice blocks for the dogs' bowls. It is toasty here!
Last weekend (Sunday I think) I finished these clothespin aprons for my sisters. (You would think that someone that sews, has multiple machines set up at all times and more fabric than a lot of stores would actually have curtains on those rods. This is my "temporary" sewing room. I don't want to commit that much!)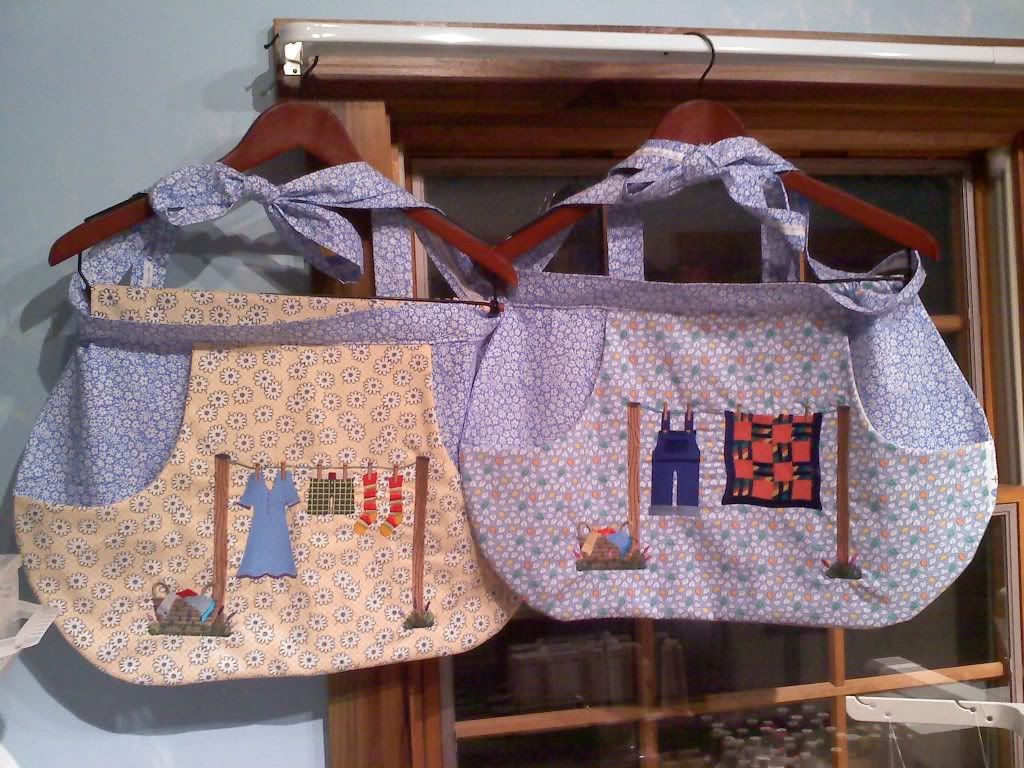 The fabric is from Connecting Threads and called Canning Day. The embroidery designs are from Embroidery Library. The pattern is self-designed. I have three more to make and am working on a tutorial/pattern if anyone is interested. Only one has been delivered (actually picked up) and she seemed to like it. I really like mine. I came home the other day and hubby had it hanging on the line with the hanger. So, it worked just like I intended.
I crocheted some this week, too. I was trying (unsuccessfully) a new pattern. I like to try something small like a dishcloth first. Dishcloths wear out so fast that you always need more.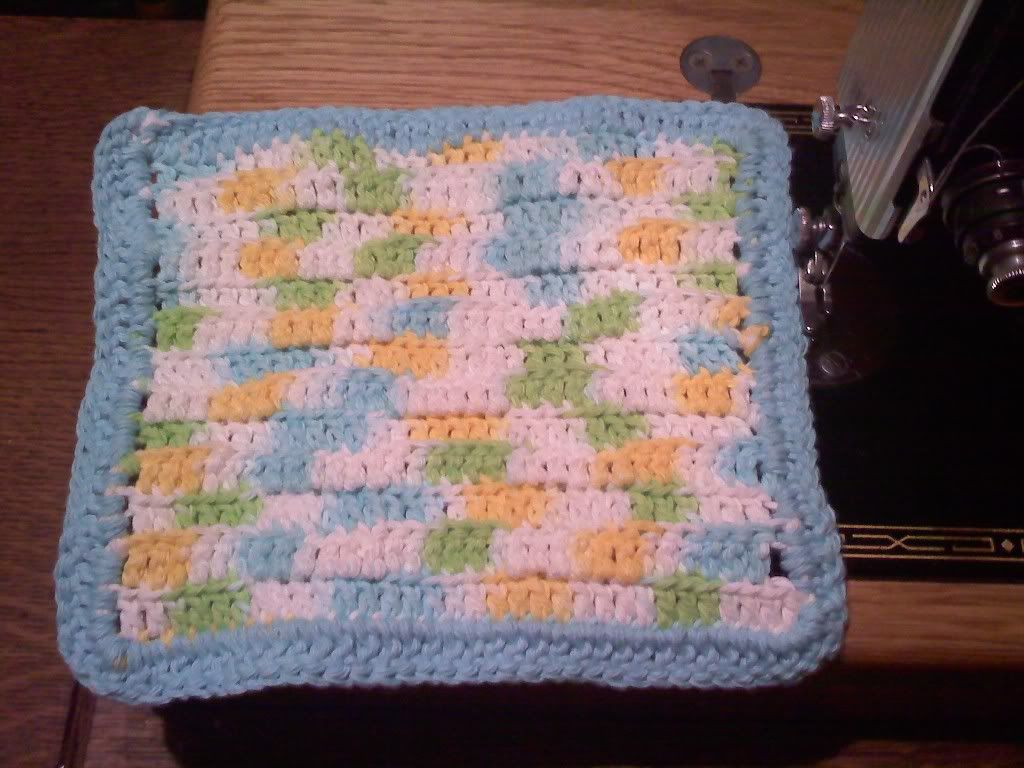 Even if I didn't get the pattern just right, it is pretty. I will give it to my DIL tomorrow when we go there.
The garden is producing. It is a struggle with the drought. But we have beans to pick tomorrow evening or Sunday morning. We are also eating squash, zucchini, broccoli, peppers and cukes.
I am continuing on the baby items quest. Right now I have three crocheted caps, a half dozen wash cloths, two hooded towels and ten burp cloths. I have the yarn to start a sweater and the fabric for one of the quilts I am making. I just have to pick the design. Very happy to have a use for all the pinks and browns I collected!
I am linking up with Sarah at
Confessions of a Fabric Addict
and
Richard and Tanya
today. Please go check everyone out.
Have a great weekend and try to stay cool!
Mary