ETA: Okay...it is now Wednesday for the world. This is my WIP that I am still working on. I am linking up to
Freshly Pieced
TGIF...okay, so it isn't for most people. This is my "Friday". After I get off this evening, I have 48 hours off and then am back for three 12 hour night shifts. So, Monday is my weekend.
Today I am a bit under the weather and thus distracting myself with thoughts of what I will do when I am off work and feel better. I am going to finish my Rosie bag. I thought I would post about her today though as a WIP.
I bought her last fall off of a clearance shelf at
The Stitching Post
in Washington, Indiana. She was designed by Bayside Quilting for Andover Fabrics. Let me see if I can link her picture.
Well, that took some doing. But here she is. She looks better in person. I had read about a trapunto method that I wanted to try for Rosie. I took high loft poly batting and sewed it to Rosie, the speech balloon and the red sashing. I then cut away all the extra. Next I layered Warm & Natural batting behind everything and a piece of muslin. I started to stipple it with a stitch available on my BabyLock Ellegante.
Here is a picture of the WIP.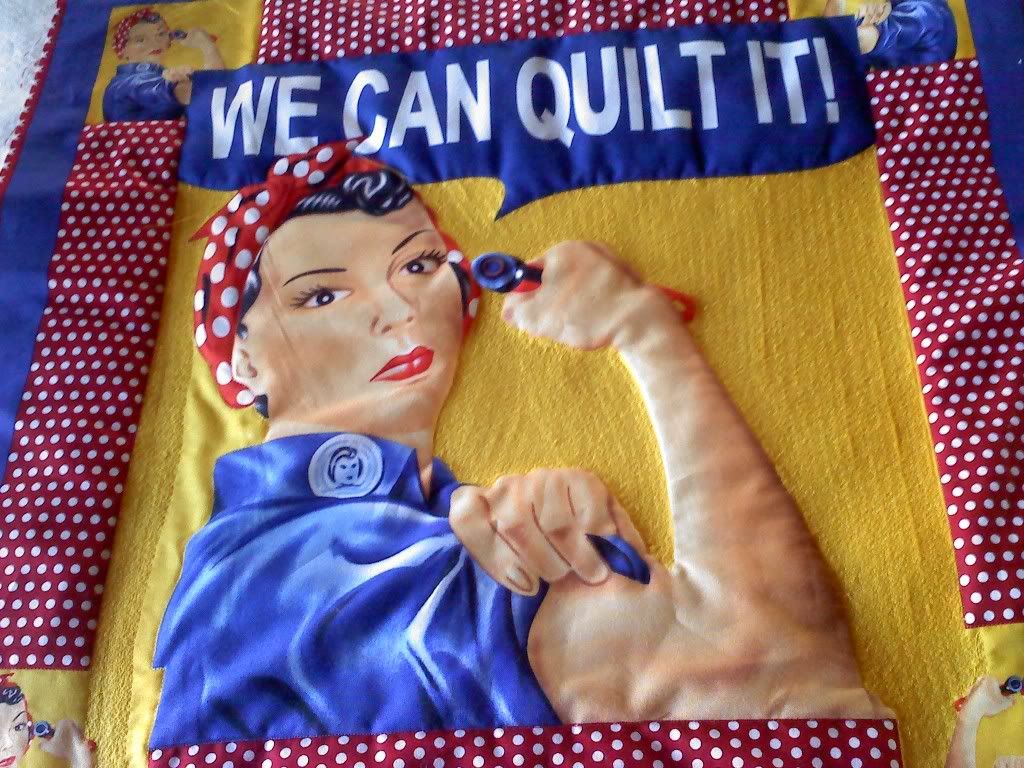 Hmmm...not so sure about this. Rosie looks like she has cellulite and you can see the lines from the stippling. But, I have committed so let's move forward. Four hours and finishing off three spools of thread later I like the overall effect but Rosie still isn't "puffy" enough. I think I stretched the poly when I was sewing it. I will use some tissue paper as a tear away stabilizer next time. So, I cut holes in the muslin and "stuffed" Rosie some more. Since this is a bag it will have a lining to cover up where I am closing those spots. I think she looks much better now.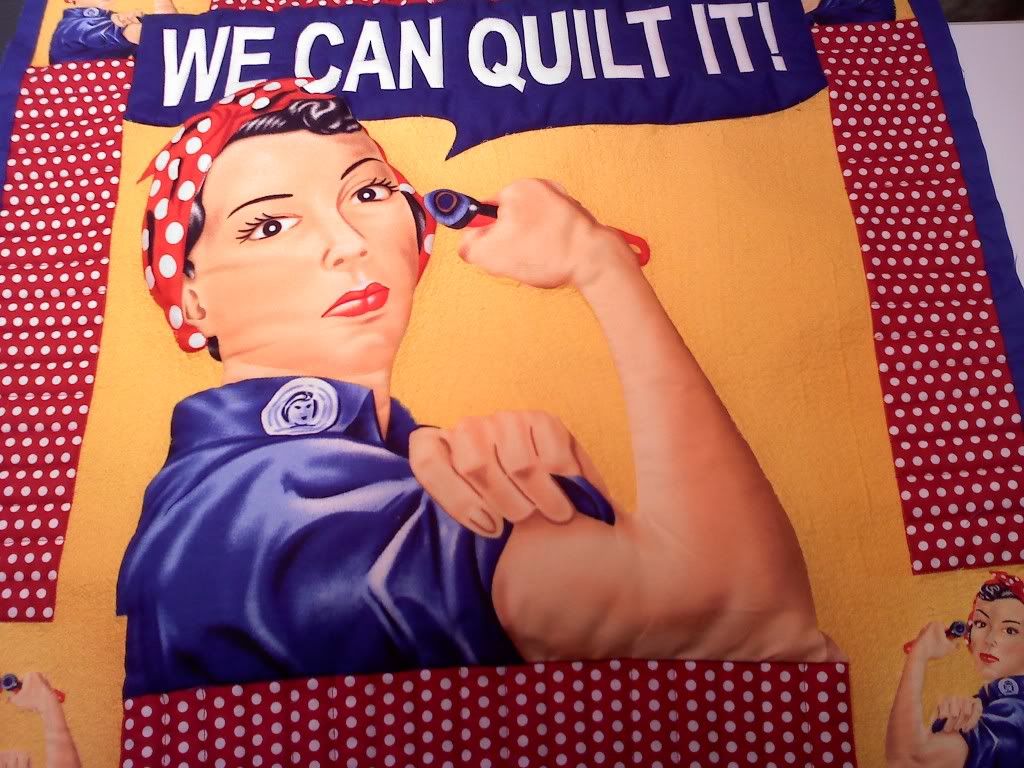 I stippled all around all of the Rosies. I used yellow thread (about 300 yards!). For the borders I did a simple line across the red with both battings behind it. The speech balloon has both battings, too. I just outlined the letters with a blue thread.
I showed this to my husband and he said, "Wow. That looks like a lot of machine time." Thanks, dear.
This is the other side of the bag that I pieced from a clearance collection I bought at Connecting Threads.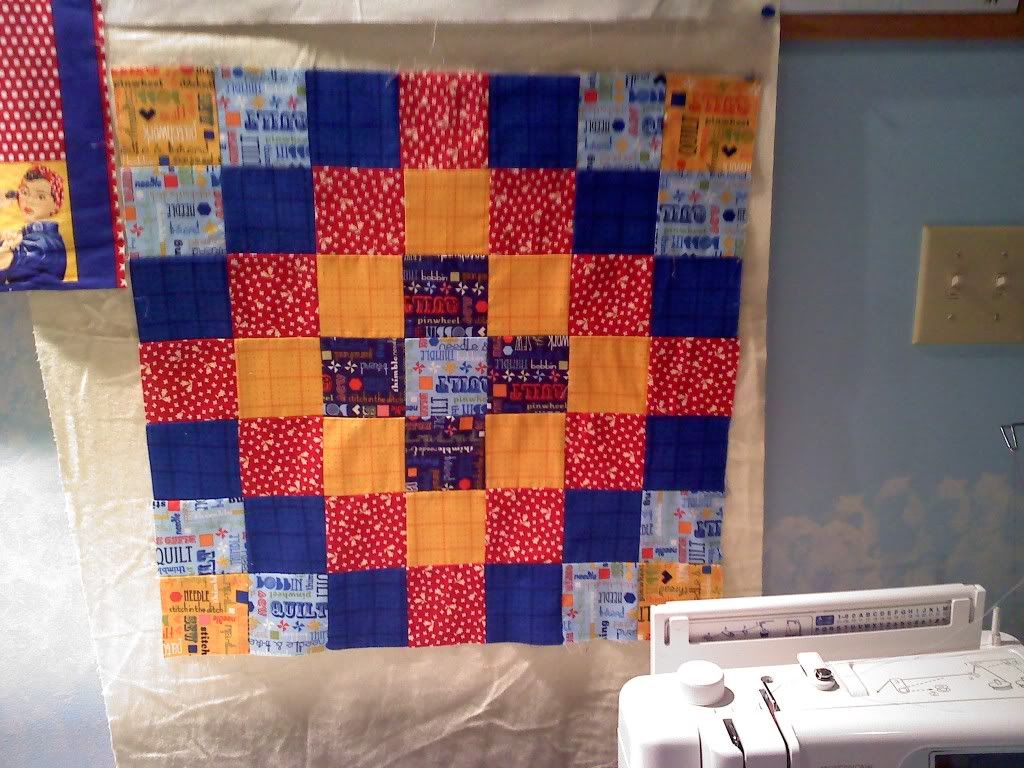 The picture doesn't show up very well but the blue and the yellow pieces look like cutting mats. I am using the blue for the sides, bottom and the handles. I hope to quilt this side tonight or in the morning and then construct the bag.
The finished bag will be around 21" square. I keep getting asked what I will do with that. I am not sure but a quilt should fit in it. It was an interesting project and a skill builder. I might try a pillow or wall hanging with this effect but there is no way I would do a bed size quilt. I don't have that much patience.
I do have the other half of the panel remaining. I
might
try again and make a wall hanging with it. My bag will have a pocket for a cell phone, wallet and keys. Do you have any other suggestions to make for me? Thanks for looking! It is past time for me to go back to work.
Keep Stitchin'
Mary