I did sew this week. I think. I know I ironed a lot. Oh yeah! I made a rag quilt for my MIL that I did NOT take a picture of. I did take a picture of this nasty little thing. It is a Buckshot Pincushion that is supposedly a Civil War era thing. Mine does not have a buckshot in it. I stuck with poly fill.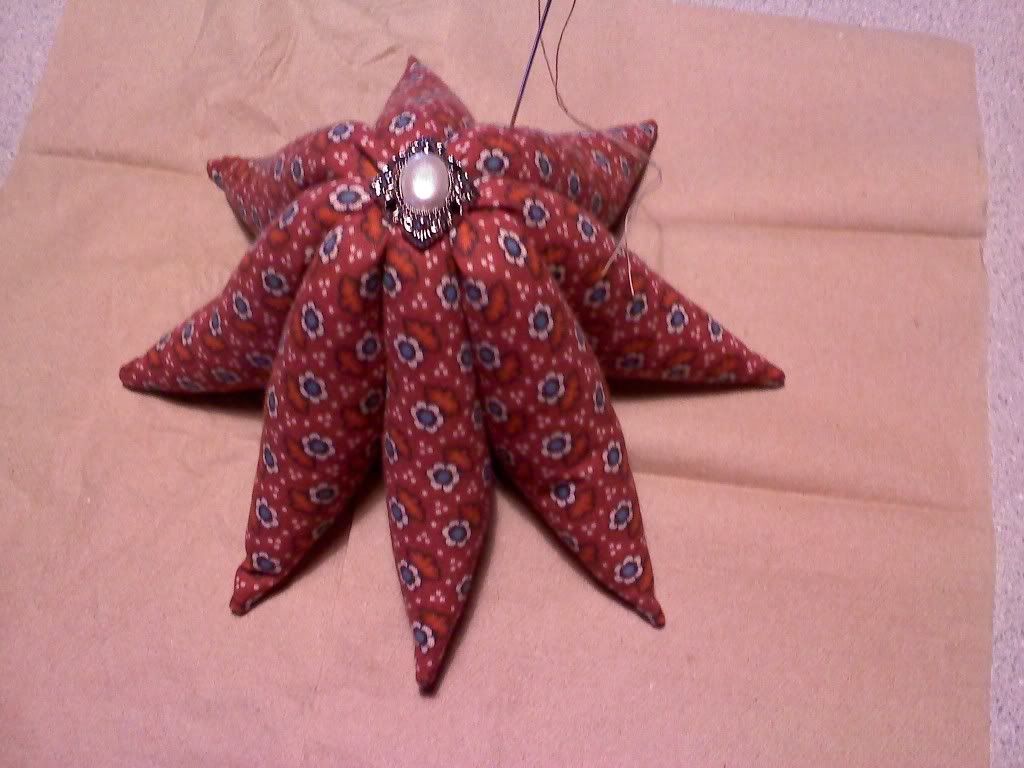 I don't know if it could be any uglier. I made it for Show and Tell for my BOM club. Most everyone is doing Civil War prints. I am doing flour sack. The way this is organized participants can earn "script" for an auction held in November. I found this
pattern
when I was doing research for a Gone with the Wind quilt for my SIL a couple of years ago. I decided to make it for this club.
My husband says it is ugly and looks like some sort of crustacean. He is right but now it is done.
Now, for the GWTW quilt. It is an old story but it counts if I haven't blogged, right?
I made this quilt for my SIL for Christmas. I drew her name in the family Christmas. The rule is you are supposed to make the gift. Even the kids do this. It is fun and interesting to see what is given. She wanted a GWTW quilt or curtains for her bedroom. After much teeth gnashing I decided a GWTW quilt would be more fun for me.
Quilting Treasures had just come out with a GWTW line of fabric (This was a couple of years ago). Unfortunately I thought it was UGLY....and it was expensive. I started buying Civil War reproduction fabrics with no plan in mind. I kept watching the GWTW fabrics and it finally went on sale and a new batch came out. I gave in and bought some. I was able to get the print with the burning of Atlanta on it for the center.
I finally began working on the design of the quilt. I did a lot of research about patterns from the era. I learned about the Sanitary Commission of the North. Northern women, in the four year period of the Civil War made an estimated 250,000 to 400,000 quilts for the cause--all by hand. The original quilts measured approximately 48 by 84 inches, the same size as a hospital cot.
Southern women did what they could to help buy desperately needed gunboats. Beautiful Gunboat Quilts* were made. Some of these displayed elaborate medallion style floral arrangements cut from printed fabric. The motifs were cut out and appliqued to solid fabric. This method is called broderie perse and requires very fine sewing skills. Through fairs, raffles and donations southern women raised enough money to pay for three of these ironclad gunboats.
I made the center of the quilt to represent the era.
The upper left represents the quilts made by the Sanitation Committee for use in hospitals.
This was a common pattern. I fussy cut scenes from the Civil war to put in it. The upper right is very obviously Scarlett.
She was rather disturbing looking when the fabric arrived. I finally realized she had no pupils! I added them with a Sharpie and she looks much better.
The center is the Atlanta burning scene from GWTW. It is bracketed with more Civil War pictures. On the lower left I did embroidery to represent broderie perse.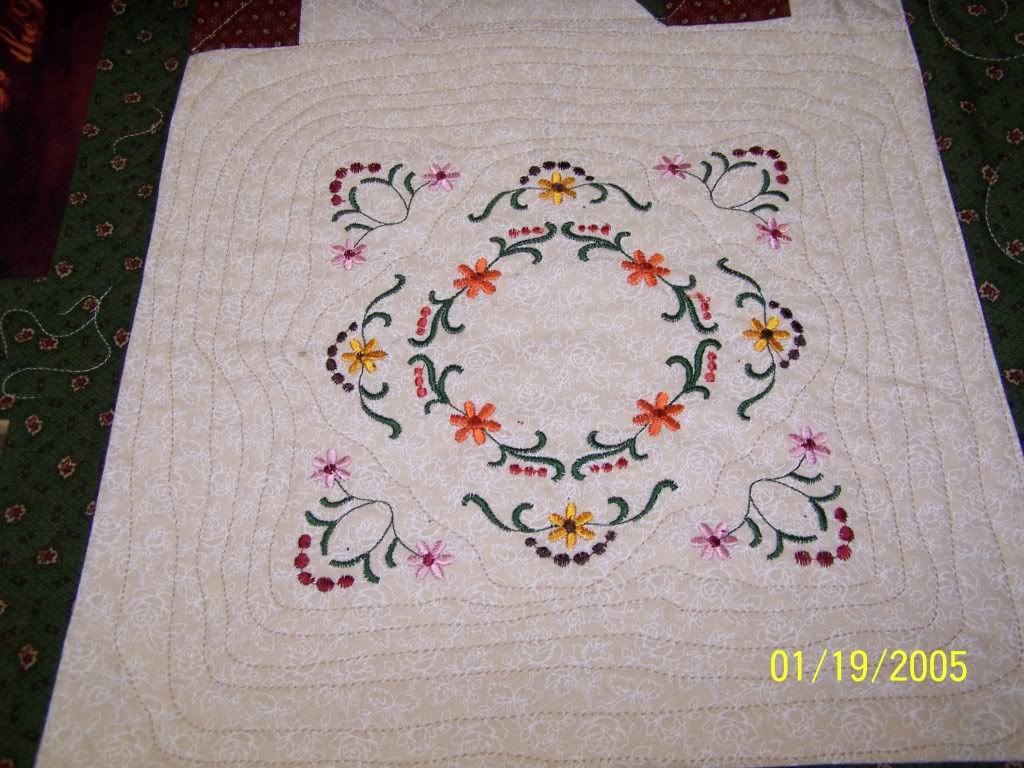 That technique requires fine needle skills that I don't possess! The lower right is a Jacob's Ladder and is another CW era block. I chose it because it is a family name.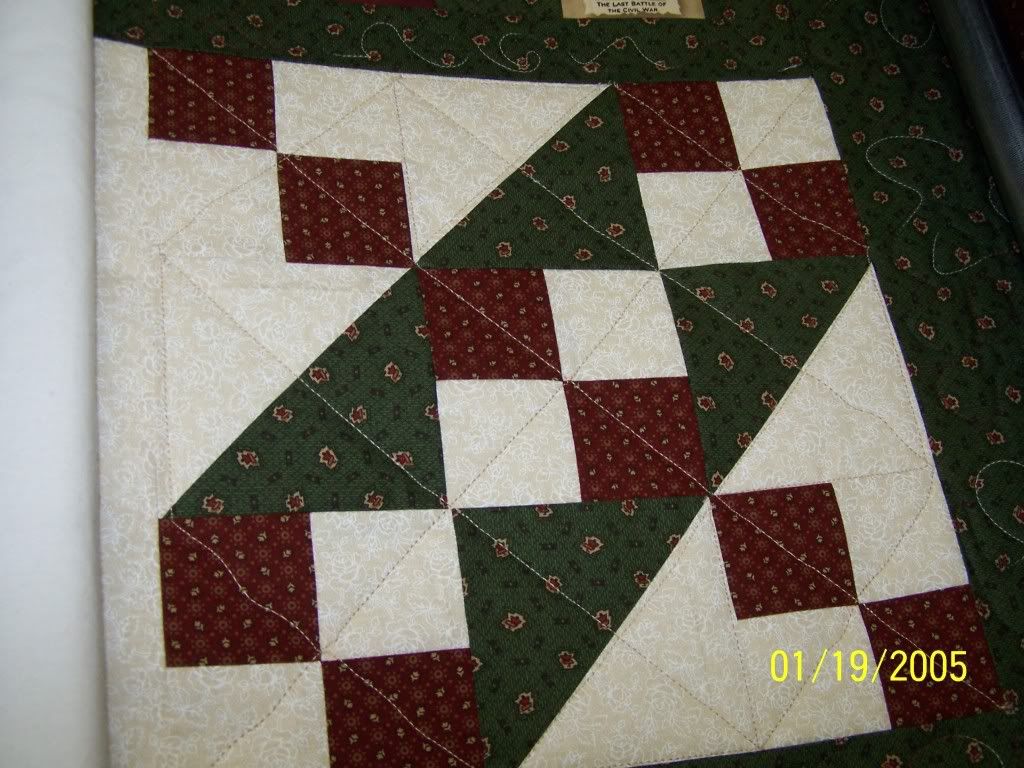 My SIL wanted green and burgundy. I didn't see it as looking like Christmas until hubby pointed out. Fortunately, it was what she wanted.
I took my random purchases and arranged them around the center using 9-patches alternated with plain 12" blocks.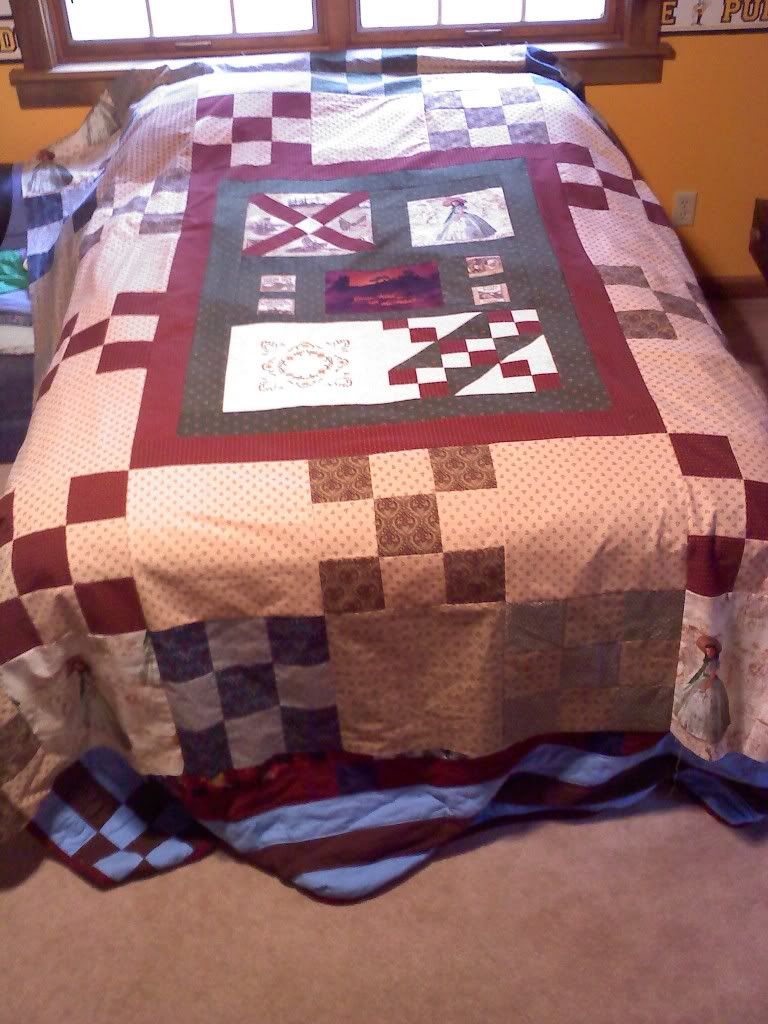 After quilting. This is the only picture I have of the entire quilt and it wasn't bound. I bound it with the burgundy used for the inner border.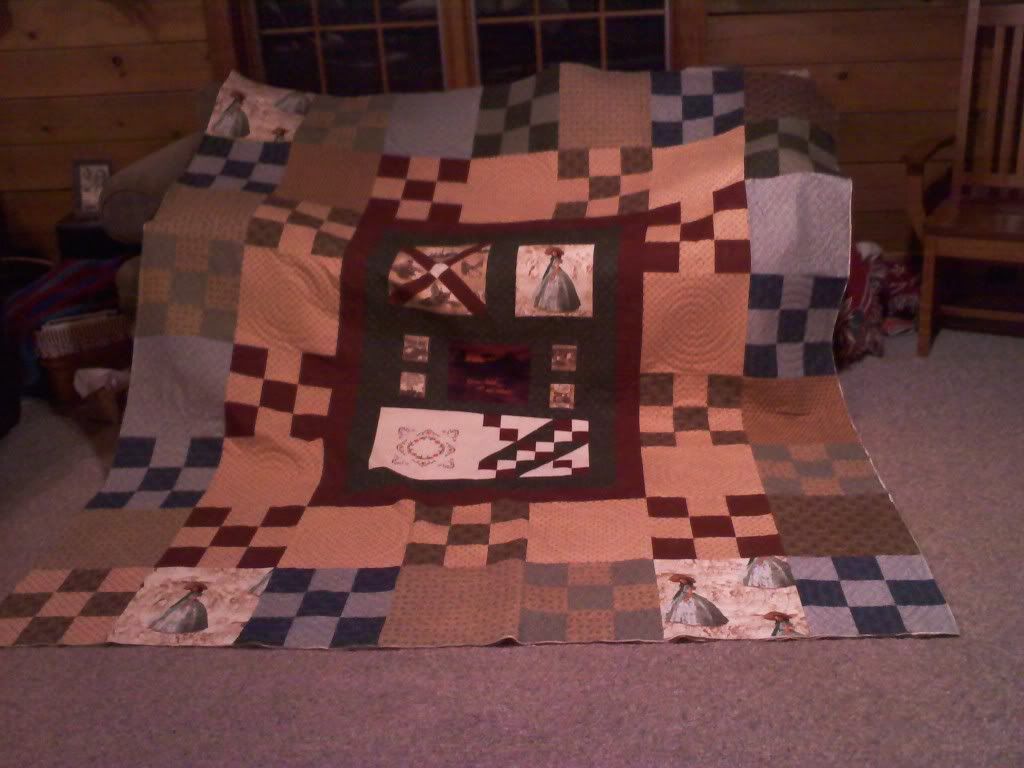 This was my first major project with my HQ16. All the pictures are with my cell phone and reflect that.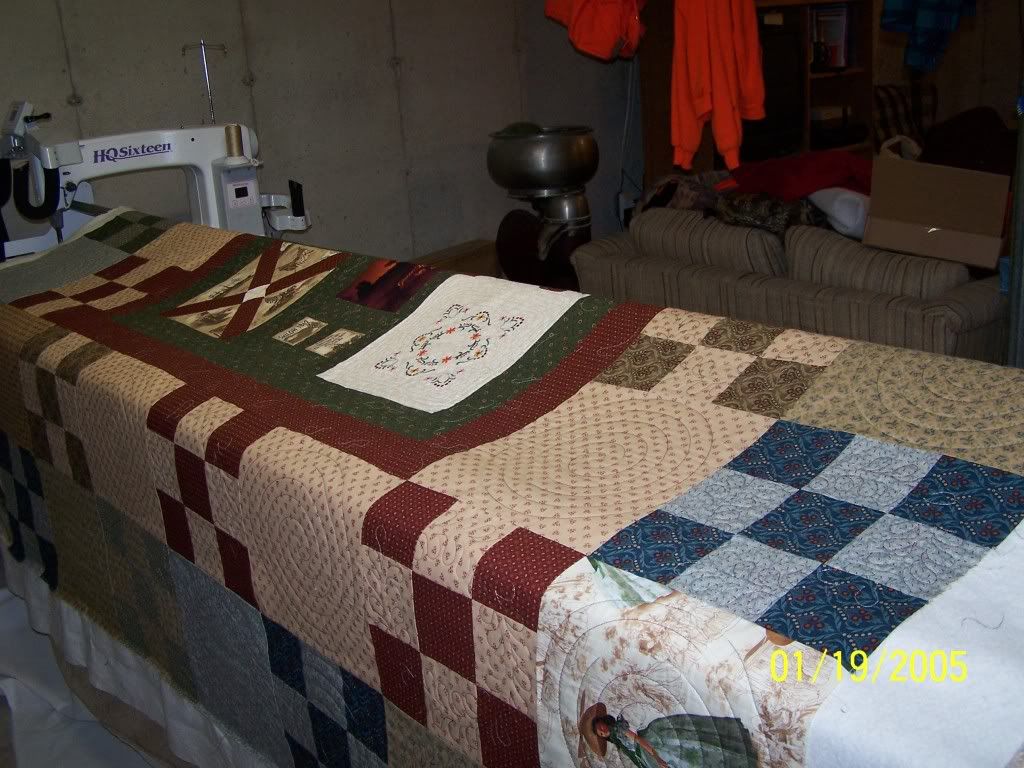 I quilted each block individually and alternated between the spiral you see above and a feathered ring on the nine patch: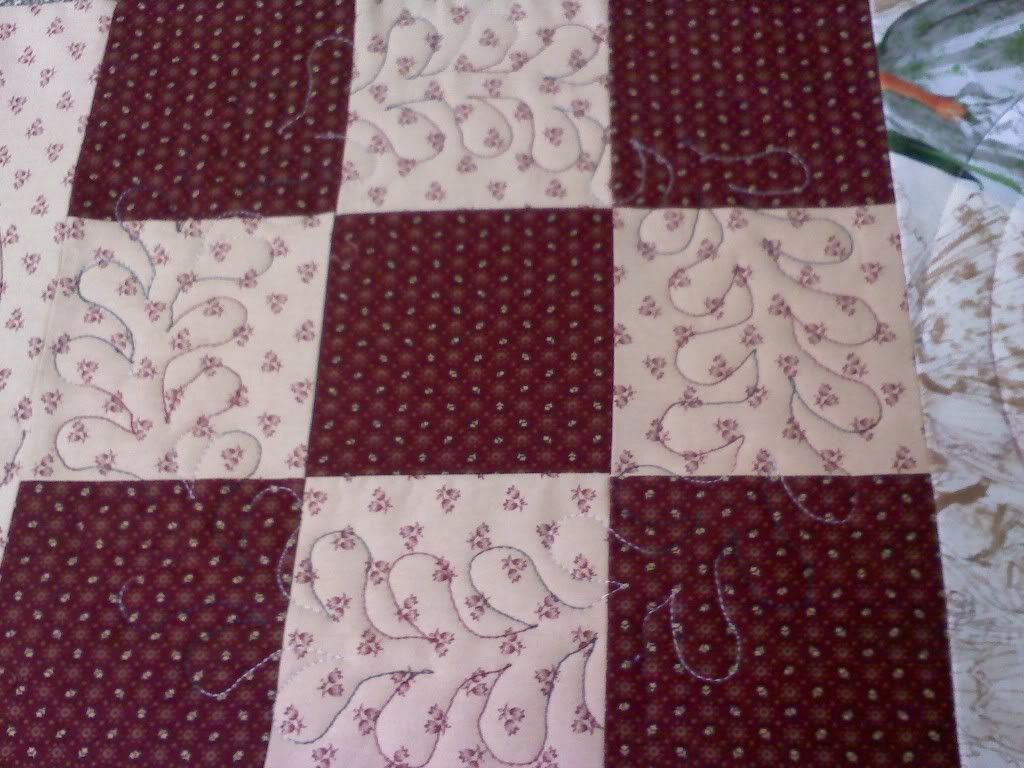 I remember that I used a variegated thread but don't remember the brand. It sure wasn't perfect. I like to blame that on the drunken monkeys that showed up during the quilting. I am sure I would have done much better on my own but every time I turned around one of those drunken monkeys had yanked that machine right out of my hands!
Talk about a skill builder. This quilt surely was. She swears she loves it and her husband does, too. I assume it is on their bed but I haven't been in their bedroom to look.
Most times I now have the drunken monkeys under control. They still interfere from time to time but I am better at fixing their mistakes now!
I hope you enjoyed my little project. I hope to link up with
Amanda Jean
and
Fabric Addict
later today. And next week I hope to have a couple of project to show.
Keep Stitchin'
Mary