Still on my "long change", so am trying to stay busy and to post. Yesterday the entire state of Illinois was green and yellow on the radar. Since the storm was moving east and slightly south and I live on the western edge of Indiana in the southern half, you would think we would have gotten rain. We did not. I did, however, get the pounding headache the storm front brought. That led me to be stupid several times. I am such an expert with a seam ripper these days. Mom would be mortified.
Here are four finished blocks from yesterday.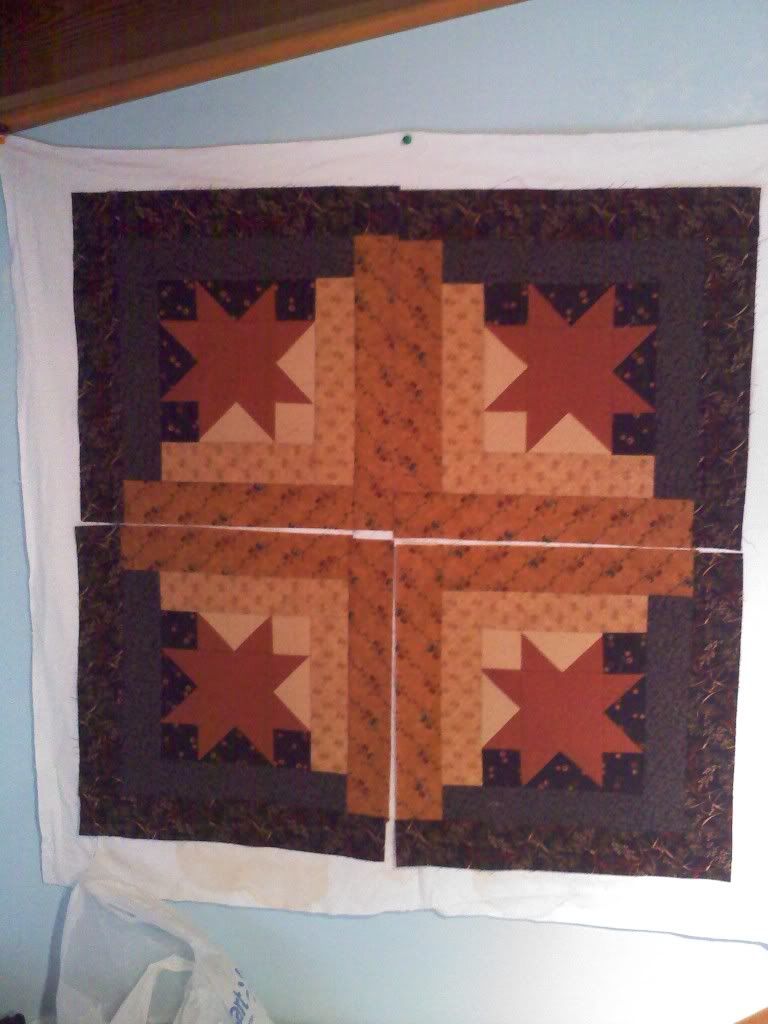 I have several more in progress but these are all that are done. It takes 20 for the quilt I am making. I am not real pleased with the second blue. I tried rearranging them and like it even less. Annoying since they are all from the same fabric like.
I may work on them some more this morning. I volunteered to help my MIL finish up the quilt she was making for her granddaughter for Christmas 2010. We are supposed to do that today after she returns from errands. She has a tendency to add more and more errands to her list and be gone a long time. So, she may not be back for this to happen because I have to leave this afternoon. I have a mother/son date.
My oldest (nearly 29) called me last week and asked me if I wanted to go with him and a buddy of his to see Willie Nelson tonight. Probably wouldn't have went on my own but since he asked.... How could a mom turn down an evening out with one of her sons. As they mature there are so few opportunities. So, I am leaving this afternoon to drive to Indy for the concert. Works out well because I have a doctor appointment in Indy tomorrow morning. Just staying over.
I know four people having babies in the next 7 months or so. A couple of them are pretty close to me. I foresee several babies in the future, too. I have a small stash of baby things I have made but I am determined to add to it. My goal is one item a week. I am currently crocheting a hat.
Isn't that thing cute as a button? By making a pink one I am probably insuring that all these babies are boys. That will make the dads happy. I will use it eventually and pink yarn is what I had.
I better try to sew a little before I start my day. Have a great week!
Keep stitchin'!
Mary
ETA: I finished that hat yesterday and am working on a blue one. I am linking up with
Freshly Pieced
for WIP Wednesday. Be sure to check everyone out!