Okay, let me confess. I hate oatmeal. I can remember one day when I was five years old my mother made me sit at the table with the same bowl of oatmeal for over four hours. She swore I would set there until I ate it. I did NOT eat it and I am not setting there!
As I got older I discovered I still don't like it but if I mix it 50/50 with apple sauce I can eat it. Mom would put butter and sugar on it. I don't like butter at all and never have. I digress...
I am no longer five. Now I have borderline high cholesterol. Oats are good for that. Soooo......I discovered steel cut oats and found I can tolerate them. Did you know they are what the Irish and Scotts refer to as "porridge"? Who knew that was what Goldilocks was eating? They take 35 minutes to cook. I am not that dedicated in the morning. After a little research I discovered some recipes for cooking them overnight in a slow cooker. This is my version. I hate to admit it but it is pretty tasty. At least I think so at 0400!
Overnight Steel Cut Oats and Apples
Ingredients:
2 apples, peeled, cored and cut into 1/2 inch pieces - you could leave peels on but I don't like them cooked
1 cup apple juice - if you are going healthy check to make sure it isn't sweetened
2 cups water
1 cup uncooked steel cut oats
2 tablespoons brown sugar
1 teaspoon cinnamon
1/4 teaspoon nutmeg
1/8 to 1/4 teaspoon cloves - I like them but they are over powering to some people
Directions:
Spray the inside of a 3 quart (or bigger) slow cooker with cooking spray. Alternatively, rub it with butter or shortening. Add all ingredients. Stir, cover and cook on low for around 7 hours. This depends on your slow cooker. The recipe can be doubled if using a 6 quart cooker.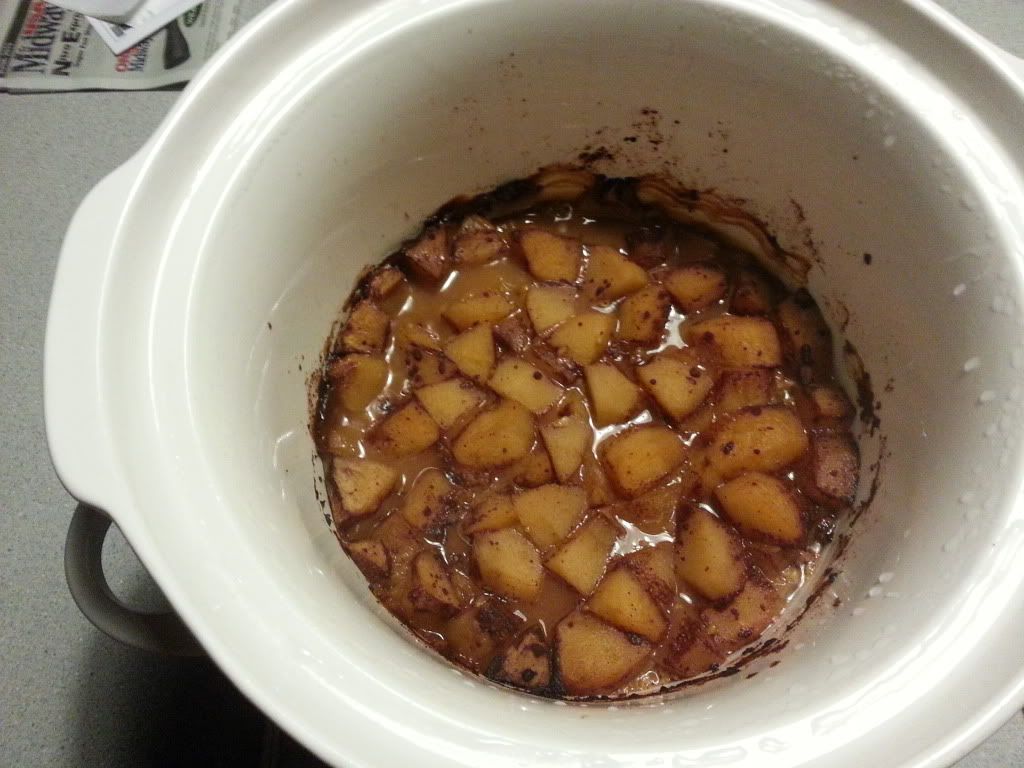 You can eat it hot in the morning or store in the fridge. To reheat put 1 cup in a microwave safe bowl (with a third cup of milk if you desire) and microwave for 1 minute.
Top as desired. I don't use milk but my husband does. I like to put chopped nuts on mine. He likes crumbled bacon. I work rotating shifts. At 4:30 a.m. this is a nice quick snack to tide me over and it doesn't mess with my stomach while I am trying to sleep.