Everyone has cute titles for different posts for different days of the week. I didn't want to do WIP. I rarely complete anything but cooking on Saturday. That is not to say I don't work on things, I just don't complete them. So, Saturday's Simmering seemed fun and appropriate. I don't have an image, but I will shortly. The Good Lord knows I always have pots simmering!
Today I left the fishing quilt simmering in the sewing room. Background information on this quilt....My husband's family draws names every year at Christmas for next year. We have all year to make our gift for that person. This past year I drew my nephew's name. He will be 13 in December. That boy LOVES fishing. His mother wants me to make him a t-shirt quilt but I didn't do that for my own kids. So...
I thought and thunk and allowed those thoughts and thinks to simmer around in my head until one day while looking at an Eleanor Burns Quick Trip Quilts book I had an idea bubble to the surface.
Can you see it there? No? Well, I will tell you about it. I got the bright idea I woud do one of those quilts in batiks (twin size) to make it look like a pond. I have blues, browns and greens. I don't know how ponds look in your neck of the woods but they have all those colors here. My plan is then embroider and applique a few fish into the pond.
I carefully laid out the fabric three or four times until I found an order I liked. Then I began sewing. I had the strips laid out on my dining room table on the main floor. My sewing room is on the second story. I would carry 4 to 6 sets of strips up at a time being careful to keep the arrangement. Mmm, hmmm....pretty sure I turned one set around backwards at some point. Not positive, though. Discovered after all sewing of strips and cutting was complete.
Here is a small section of it.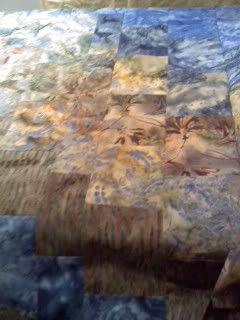 I have 10 or 11 of the 24 strips sewn together. Apparently I can't do a quarter inch seam to save my soul. The strips don't match in length. I abandoned my personal rule to alter directions I sew from on this one. I will square it in the end.
I have a border for it that is all fishing scenes. I want to put a small border between the "pond" and the main border. My DIL suggested something that looks like stones. What do you think? The pond actually goes the range from deep green to a beautiful brilliant blue. My husband almost drools over it. I can't seem to see the positives when I am working on it.
So, what do you have Simmering this Saturday?
Keep stitchin'!
Mary