Hello! I really wanted to have something on my "design wall" for today so that I could link up to some more blogs for Design Wall Monday. Yeah....that didn't happen. I am working nights this weekend. Being at work for 12 hours (7p to 7a) puts a real damper on productivity no matter how SLOW it is right now.
Today I got out of bed and went straight to my sewing room. I didn't even dress. People that know me would be amazed by that. I had some big plans but once I was there other WIPs called my name. So...I made some more pillows.
This is what my couch looks like.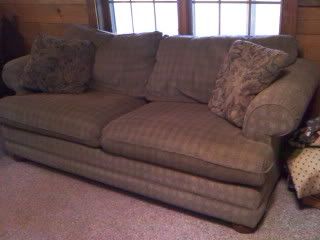 Pretty boring, huh? I live in a log home so it is always a little dark. I prefer to think of it as warm and cozy. The furniture was bought with three sons in mind. Sons that hunt, fish, run distance and work on a farm. It does hide dirt well but it is boring. So, I decided to add some color in pillows.
I pieced this pillow top and embroidered two others.
I used a decorative stitch for a stitch in the ditch quilting effect and here are all three finished pillows.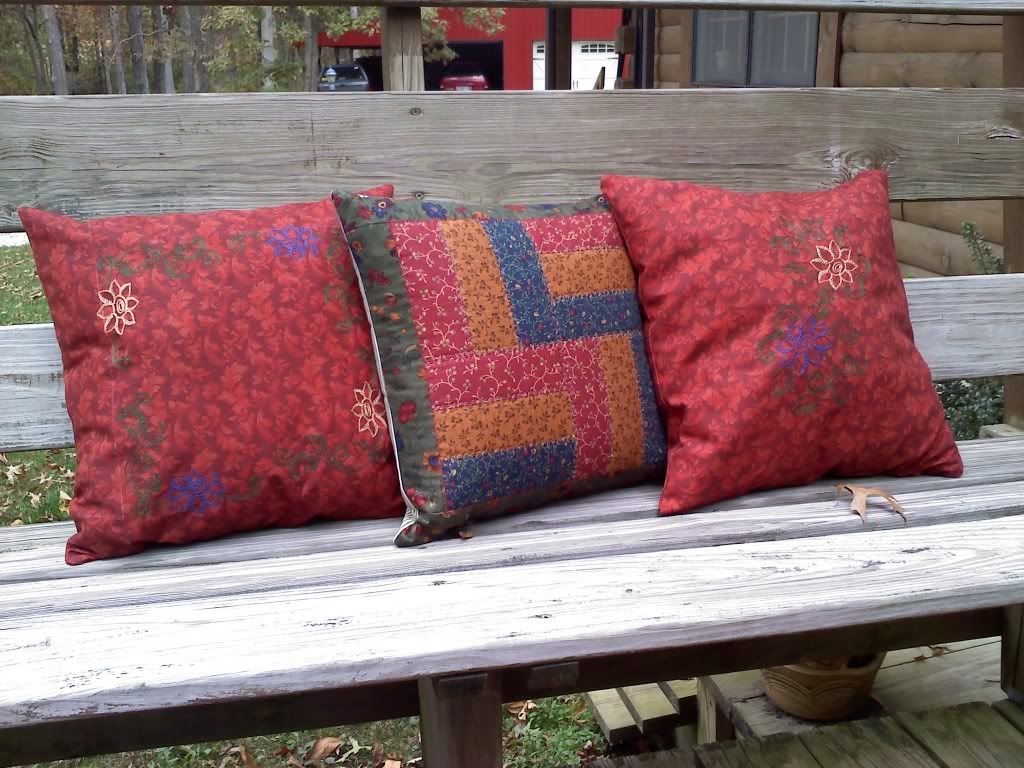 The red ones have stuffing in them because the pillow forms I had weren't full enough. The one on the right seems to have a tumor. I will have to look at that again tomorrow.
Here is a really bad picture of them on my couch. I like them but I am sure that couch needs a quilt on the back of it. I am going to make one in the fabrics used in the pieced pillow top.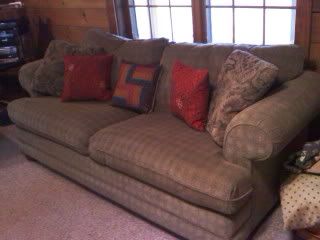 So, that is what I DID do. I had other plans this weekend. One of my sons and his wife came home. Yesterday I cleaned up in the sewing room (it badly needed it) while she worked on a baby quilt. In doing so I found some fabric I was gifted.
In the current
Quilt
magazine there is a pattern for snowman placemats. I went to their
website
and could not find it there to link but here is another bad picture of the picture in the magazine.
Here are the fabrics I found yesterday.
My aunt, who LOVES snowmen, brought these to me when she came to visit in August. Won't these work for those placemats? Today I looked in my stash and found a red I like. It isn't seasonal like the print in the magazine but I think it will work fine.
So, that is what would have been on my design wall if I could have managed. Instead, I made pillows. Tomorrow I am going back to working on my nephew's quilt that I am making for Christmas. It will have its own post soon, I hope.
Btw, the red and white four-patch in the background is one my Mammaw made. Someday I may do a post on the Mammaw's quilts that I have. I just remembered that today I had the thought to make this post about my mom and what she did and did not (zippers) teach me. The zippers are in the pillows but I still sweat when I do zippers. On the other hand, Mom couldn't make a button hole and I can make them in my sleep.
Keep stitchin'!
Mary