Amanda Jean
is having a linking party for Finish it Up Friday. Hopefully I will figure out how to get linked to her blog.
I finished up three things this week but I think she would only be interested in two of them. Still, I am rather happy I finished canning the tomatoes I had on hand!
Last month I made a quilt for a wedding gift. It was a modified Alabama block. I will post pictures of it another day but the pictures aren't very good. My test block was a little small. I decided I needed new pillows in my living room. This is what I did with my test block.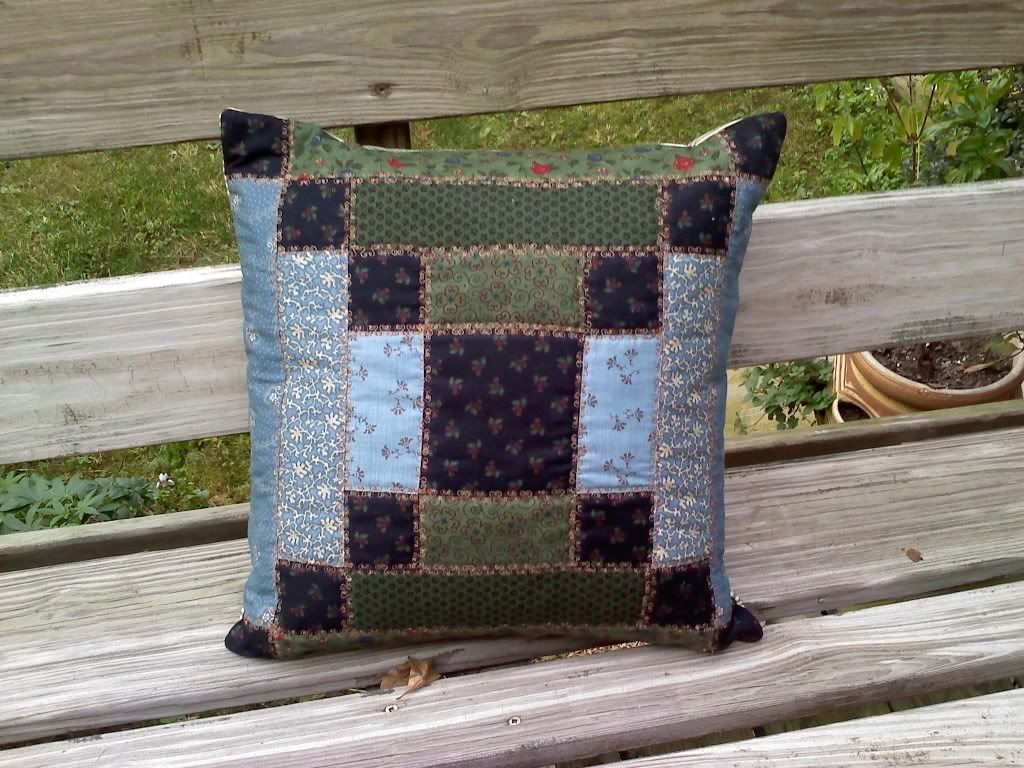 I love it. I used a decorative stitch and a varigated thread to quilt it. It wasn't quite 16 1/2 inches. So, it didn't work for a quilt block but looks great as a pillow. Don't you think?
My other project was a fall table runner. I wanted it done last weekend before my kids came home but I didn't make it. Here is a picture when I was trying to decide on the layout.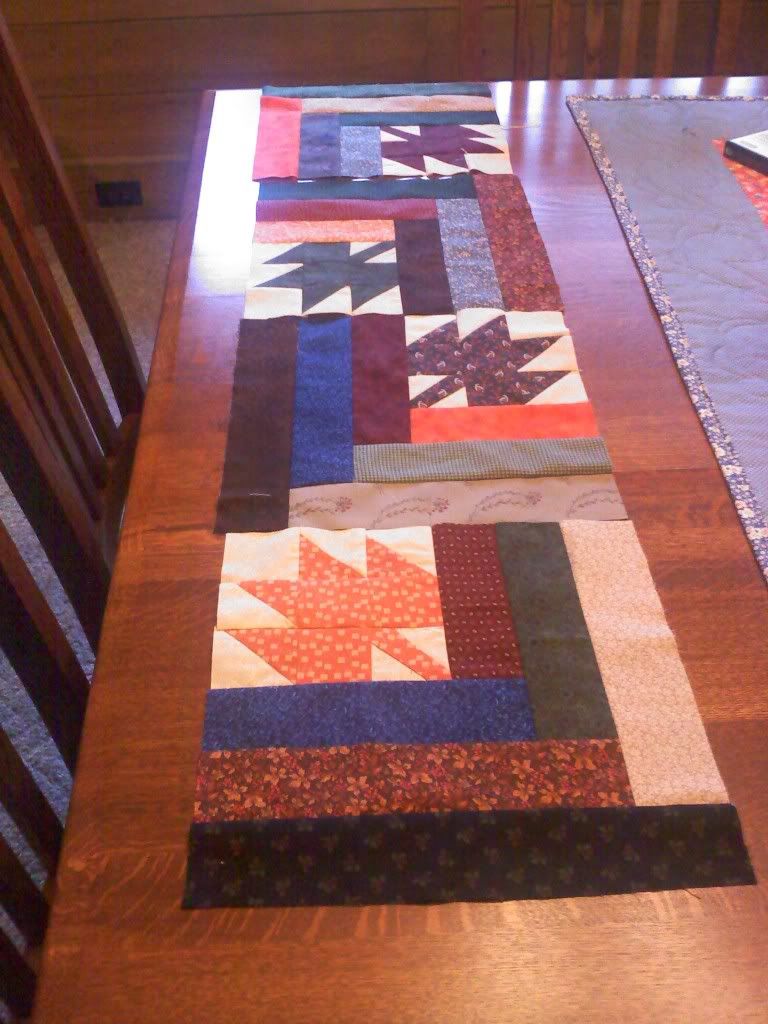 I was just trying to decide which way to rotate the blocks. And, this is basically what I ended up with. I frequently take pictures and send to my aunt and my DIL for their opinions. This was the final product. The colors are a little washed out in this picture. The second maple leaf from the left is actually green. I think the colors are truer in the picture above but I have that nasty glare!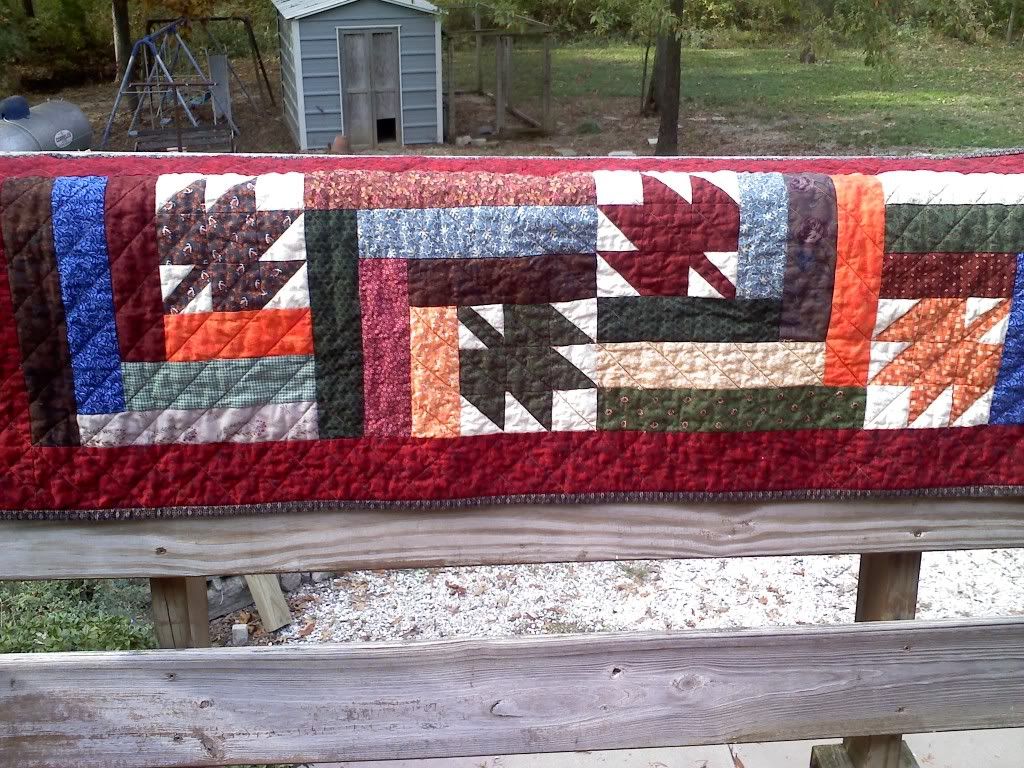 For some reason I thought it would be easier to quilt on the Janome than the HQ16. I quickly got bored with drawing out the lines and ended up winging it. The border is cross hatched but the blocks are only diagonals.
I was drawn to this pattern when I saw it two years ago in a magazine. I live in a log home. One of my "extra" children is half Canadian and there are a lot of maple leaf references made. The original called for a 9" finished block but I rarely work that small. So, I enlarged it to a 12" and I love it. Looks pretty good on my table, too. Only picture I have right now shows mostly the flowers. I grew over half of those. So, they count, too. Right?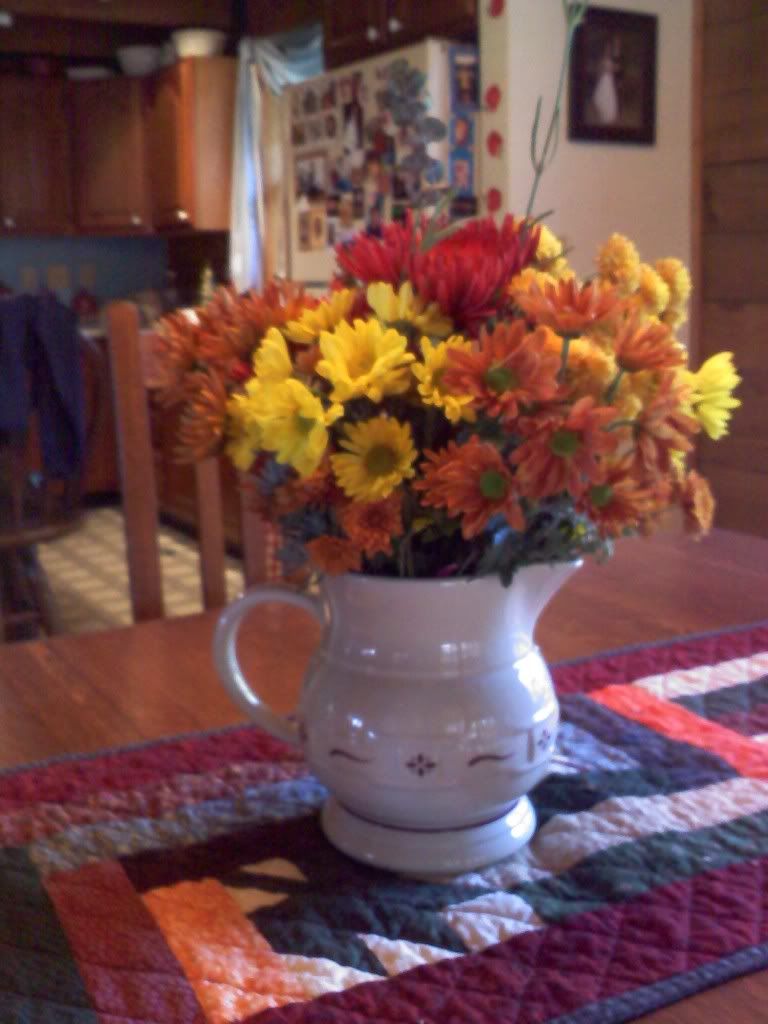 Happy Fall, Y'all!